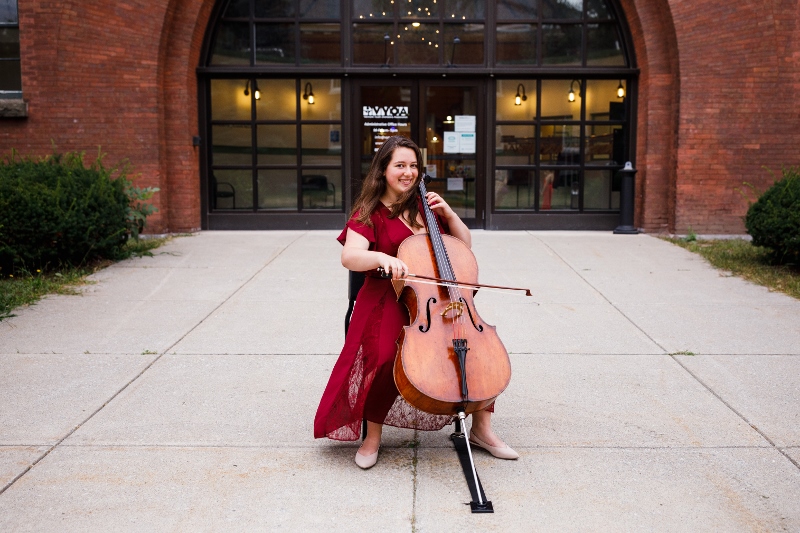 Layla Morris, cello
Champlain Valley Union
VT Youth Orchestra – 5 years
VT Youth Philharmonia – 2 years
VT Youth Strings – 2 years
Photo: Keith MacDonald
Why do you like your instrument & how did you choose it?
I started playing the cello when I was very young, around three years old. I've grown up in a musical family; my parents are both professional violinists/violists, but I always wanted to do something different from them, even at that young age. I didn't like to go along with the crowd, so I decided that I wanted to play the cello. I had been exposed to a lot of instruments, especially strings, and I'd always loved the cello's depth of sound. So choosing the cello was partially a rebellion and partially a gravitation towards the instrument itself! The famous story in my family is that I kept asking my parents if I could start lessons and they kept saying that I should wait until I was older, so I took matters into my own hands, marched right up to my first teacher (Mrs. Anne Brown), and asked if I could study with her. My family decided that if I was going to be that forthright about it, I could definitely handle the demands of practicing and playing.
What has been your biggest musical challenge & how did you overcome it?
I think one of the things that's been hardest for me musically is learning to focus on my own growth rather than comparing myself to others. I'm actually still working on that. I am a naturally very competitive person, and while most of the musical environments I have been in have been relatively healthy, there is always going to be that element of competition, especially between young kids. I eventually learned that if I focused on my own progress, it was much easier to feel successful. After experiencing a lot of hard knocks and disappointments, I realized that trying to figure out how somebody else judges me in comparison to others is only going to make me feel worse. So, now when I'm in a stressful audition or other difficult situation, I narrow my focus to myself and tune out my surroundings, and it's really helped me to be more relaxed.
What advice would you give to younger music students as they strive to improve their skills?
Make it about you. Something I notice a lot with younger students is that the reason a lot of them play music is because their parents want them to, or they think it will look good on a resume, or there's some other type of external pressure. What's important to remember is that you are the one playing, and it's your responsibility to decide if it's something you care about enough to devote a lot of time to it. Something that really helped me with this was practicing on my own and making sure to take some time to play pieces I really liked and knew well in addition to those I was assigned by a teacher or conductor.
What other activities or sports do you participate in?
I enjoy recreational skiing, biking, and kayaking. I also do a lot of creative writing, mostly poetry and short stories. I love singing in choir and I'm currently a member of the CVU Madrigal Singers.
How has the pandemic effected your practice & performance of music or participation in your other activities?
Of course there have been many, many personal losses because of this pandemic. One of the biggest things I have missed is not being able to attend any music festivals. I had a wonderful experience at both All State and New Englands during my early years of high school, and I was so looking forward to doing that again. There are only a few years to participate in these events, and it's really sad that two of those years had to be missed. Along those lines, hardly being able to play music in person with others has been really difficult. Luckily, VYO has been able to meet with its many restrictions throughout this school year. Before that, it was even harder to stay motivated, especially since I am used to playing with other people nearly every day during normal times.
What do you plan to study in college & how did you make your choice?
I will be getting my bachelor's in Cello Performance at Oberlin starting this fall. I am so excited! I've wanted to study music for as long as I can remember, it's pretty much impossible for me to imagine doing something else. I feel like music is already my career, but I know that having this music school experience will strengthen my playing in new ways and help me be better prepared for life after school. I chose Oberlin because of its strong liberal arts affiliation, the amazing faculty, and the opportunity to play historic music (baroque style). It's been at the top of my list for years so I'm absolutely thrilled to be attending!