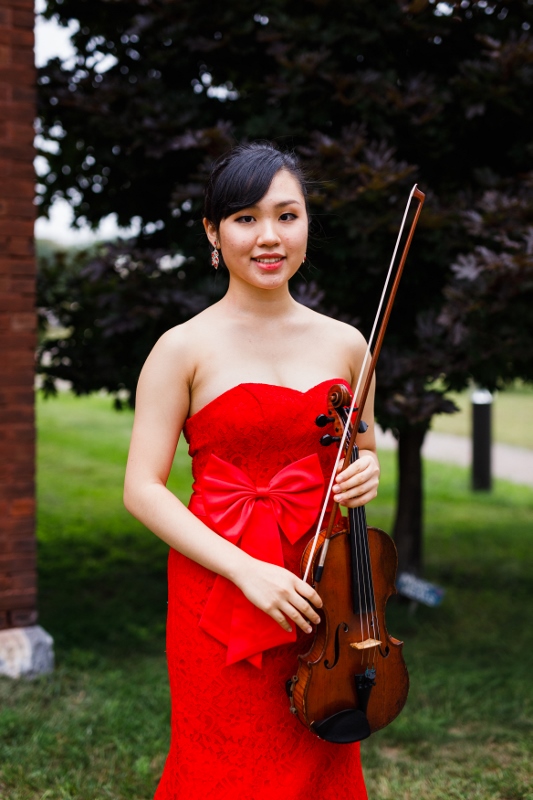 Esther Koo, violin
South Burlington High
VT Youth Orchestra – 3 years
Why do you like your instrument & how did you choose it?
Violinists Sarah Chang and Ji-Hae Park opened my eyes to the beautiful instrument and inspired me with some of the most powerful, memorable pieces in the world, in my opinion.
What role does music play in your life?
I started playing the violin to praise God. I give thanks to God for giving me this gift of music and for allowing me to meet wonderful people through this art.
What has been your biggest musical challenge & how did you overcome it?
My family and I have always prioritized honoring God through music. At first, memorizing and performing music weekly at church seemed almost impossible. Through encouragement and lots of time spent focusing on my goal and practicing diligently, I have played solos/duets (with my mom, sister, and brother) for as long as I can remember. I cherish and value these times so very much and wish to continue playing music for God's glory for many years to come. I have grown stronger musically and spiritually through my open-mindedness and persistence.
What advice would you give to younger music students as they strive to improve their skills?
A violin in its case is a gift you can open over and over again. There's a reason (or five) why people have been playing it for over 400 years 🙂 Remember to always believe in yourself — confidence is a very important skill for success.
What other activities or sports do you participate in?
I enjoy biking with my family, getting lost in good books, listening to K-pop, and pursuing environmental scientific research. I also enjoy filming and editing videos in my free time.