Welcome back to our Senior Spotlight! Its has been a difficult year, but we have been continually impressed by our students' ability to adjust and persevere through sudden schedule changes and cancellations that Covid-19 has forced upon them. We begin our celebration of the Class of 2021 with two seniors from our oboe section!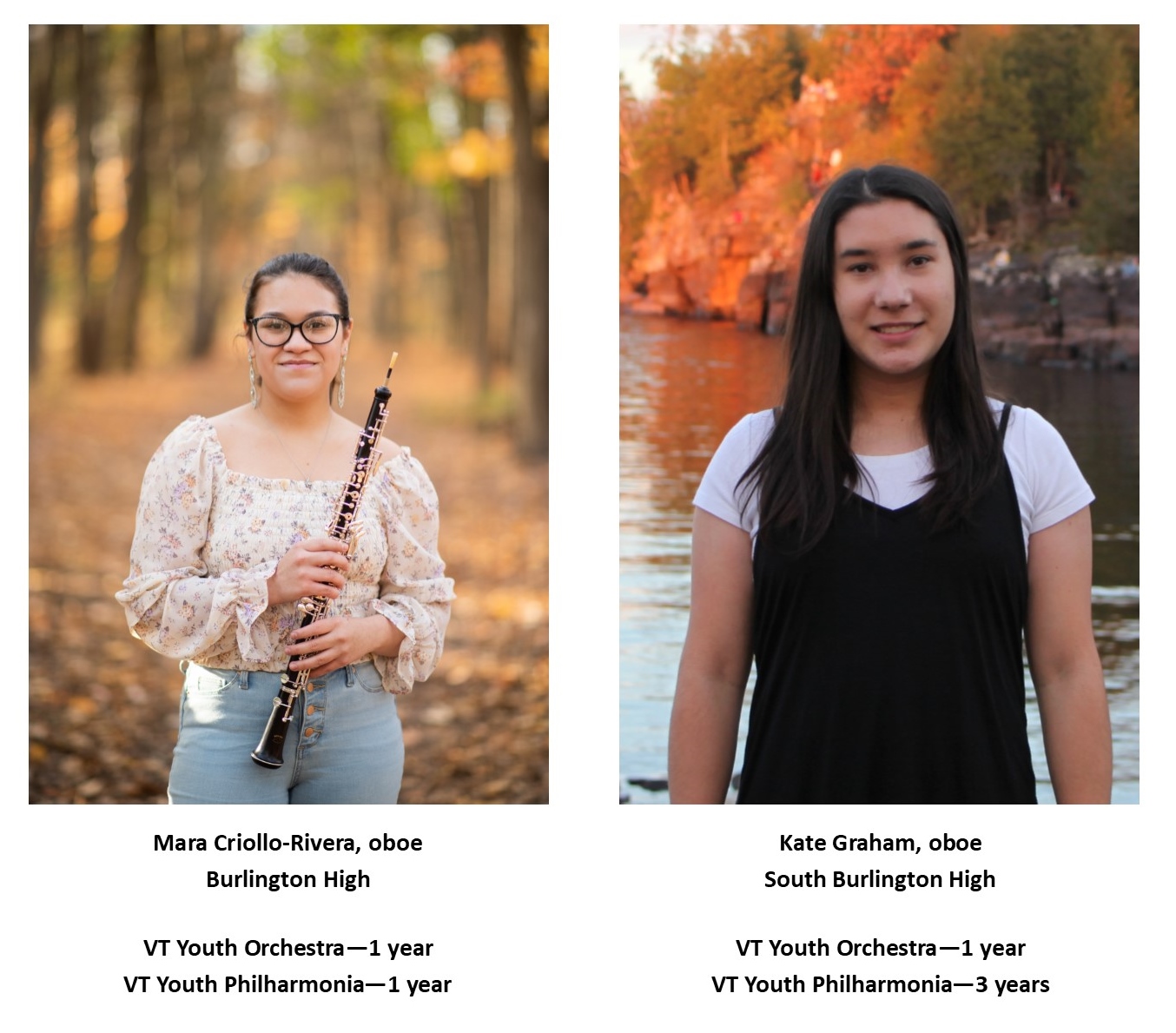 Why do you like your instrument & how did you choose it?
Criollo-Rivera: I primarily play the oboe. My love for music began when I lived in Puerto Rico. The first instrument I ever played was the clarinet. I began playing the clarinet when I was in the second grade and I performed with the First Presbyterian Academy Band. From there, my first performance was at Disney for the 2011 Disney Music Festival. I had many other wonderful performances with this amazing band. Eventually, my family and I moved to the United States. I resumed playing the clarinet in the elementary school band. I won many awards and received recognition for my playing. Soon, my band teacher recommended that I try playing the oboe. Unfortunately, I could not begin playing the oboe until the end of 8th grade since I had moved again to a new town. I absolutely fell in love with the beautiful sound of the instrument and continued to practice improving my skills. In the midst of my sophomore year of high school, we moved to Vermont. I soon learned about the Vermont Youth Orchestra Association about two weeks before auditions were being held. Now, I am a proud musician in the Vermont Youth Orchestra, and I am super excited to see what the future has in store.
Graham: I like the oboe because I think it can have a really lovely sound when it's played correctly. After a year of clarinet in middle school, I decided to switch to the oboe because I thought it was cool and wouldn't be too much harder to play. The jury is still out on my second reason…
What has been your biggest musical challenge & how did you overcome it?
Graham: As I'm sure a lot of other instrumentalists know, auditions can be pretty stressful. For me, exposure from numerous auditions to various groups over the years has helped me handle auditions in the moment, but I've found it's also important to feel prepared and confident going into the audition. Feeling ready for an audition is often more than just knowing the material, it's about trusting yourself and your ability to play.
What is your favorite VYOA memory?
Criollo-Rivera: My favorite VYOA memory is the 2019 Orchestrapalooza Concert at the Flynn Center when I was a musician in the Vermont Youth Philharmonia. We performed a medley of Phantom of the Opera and the orchestra was absolutely amazing. Additionally, the combined piece with the other orchestras was very exciting. Overall, this is my favorite memory as a musician in the VYOA.
What advice would you give to younger music students as they strive to improve their skills?
Graham: The most important thing when you're starting out is to have fun with your practicing. There's nothing worse than a miserable practice session all alone when you could be out doing fun kid stuff with your friends, so practicing in ways that you find entertaining is going to help you enjoy music more. A lot of people say "Practice makes perfect", but the saying should go "Practice makes better". The best way to improve your skills is by working on them via practice.
What other activities or sports do you participate in?
Criollo-Rivera: Outside of playing the oboe and being a musician in the VYOA, I am an artist. I paint artwork on beach stones. I sell my artwork using social media to market my art. It is called Rock of Arts by Mara. Additionally, I teach an online art class called Rock of Arts Youth Workshop through La Casita of Syracuse University. I absolutely love teaching this class and seeing the artwork of my students. To add, I am a member of the Green Mountain Chapter of the National Honor Society. As part of my membership, I do a lot of projects to help our community and do good for others, especially during the times we are currently living in.
Graham: At my school I'm on the student council and I also play volleyball, ultimate frisbee and dance.
How has the pandemic affected your practice & performance of music or participation in your other activities?
Criollo-Rivera: Surprisingly, the pandemic has given me more time to do the things that I love. Firstly, I have more time to paint. During the pandemic, I was able to start selling my art and I was able to begin teaching the online art class. I was also able to coordinate a rock painting project with members of the Green Mountain Chapter of the National Honor Society. We painted and donated rocks to a shelter through the Vermont Network Against Domestic and Sexual Violence. Lastly, I have more time to practice my instrument and improve my skills as a musician. Sadly, there are less in-person rehearsals that would be beneficial towards concerts, but right now, practicing social distancing and COVID-19 protocol is of the utmost importance for the safety of everyone. 
Graham: At the start of the pandemic, everything was cancelled and I wasn't able to participate in a lot of my favorite activities. So now, even though all of the activities I used to do aren't quite what they were before, I've learned to appreciate the time I get to spend with my classmates, teammates, and friends before high school is over.
What do you plan to study in college & how did you make your choice?
Criollo-Rivera: In college, I plan to study entrepreneurship/business management and minor in studio arts. During the pandemic, I turned this negative into a positive and got back to what I love to do most, art. I absolutely love teaching my class and seeing the artwork of my students. These experiences have made me want to pursue my dream of opening my own business one day and inspire kids to do what they love to do.