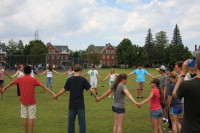 "After a few quiet weeks following the VYO's return from our Icelandic tour, the VYOA's 2015-16 season kicked off at the start of August at hyperspeed, filling Elley-Long with fantastic music making, teaching, and community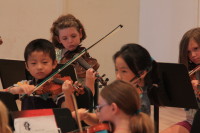 building. The first week of August featured the launch of our new Discovery Strings day camp for students in Grades 1-5 who have 6 months of experience on their instrument. Under the direction of Kathleen Kono, the fifteen students had a fun and enriching week working with super teachers and VYOA alumni Martha Ellerman and Amanda Milne. We learned that a participant level of fewer than 20 students makes for an ideal learning environment and will make this a feature of the camp going forward.
The following week saw the return of our VYO and VYP students (alongside many new members!), starting with our new two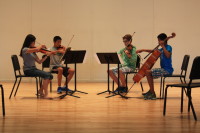 -day chamber music intensive. Between working with coach Emily Taubl and me, the students received 10 hours of coaching and gave excellent performances of their pieces at the end of the second day. In the future, we'll be looking to offer these experiences throughout the year. Reveille started on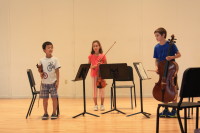 Wednesday, featuring intensive full rehearsals, sectionals, and activities that help the orchestra members get to know each other and form a strong sense of ensemble identity. The VYO and VYP fall concert weekend is only 5 weeks away, but both ensembles are already well on their way to presenting polished and spirited performances!
This past week has been dedicated to our two -day VYS and VYO Chorus mini-camps, setting up both groups to begin regular rehearsals next month at full speed.
In our efforts to improve our visibility in the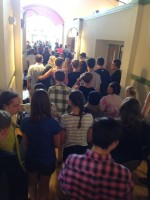 community and increase performance opportunities for our students, we have launched the VYO String Squad, an ad hoc orchestra performing fun and only moderately challenging music; with at least 20 students participating at launch, we expect to have enough players available to field a strong group for each ofthe performing opportunities we're looking at, including Church Street, the VYOA Autumn Promenade, University Mall, Farmer's Night, and Wake Robin. Caleb Pillsbury, our new VYOC conductor, is developing similar additional performance events for that group.
Looking forward to seeing you at our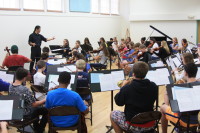 concerts this year!
Best regards,
Jeff Domoto, Music Director
Vermont Youth Orchestra Association"