About
The Vermont Youth Orchestra Association's Lesson Program is designed for students who are not currently enrolled in private lessons. This season, we are offering violin, viola and cello lessons. 
Taking private lessons can help students:
foster a general love of music and music-making  

find a unique musical voice for personal expression

develop proper technique on their instrument

hone character traits including responsibility, discipline, and self-motivation

increase fine motor skills and coordination

improve cognitive skills, concentration, and focus 

gain opportunities for advancement (via scholarships/employment/etc.)

establish new friendships through the studio and placement in ensembles
Meet the Faculty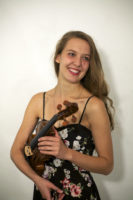 PATRICIA JANCOVA
Violin & Viola
Patricia is the VYOA's Lesson Program coordinator as well as the violin & viola teacher. Lessons with Patricia are offered in Colchester and St. Albans. Learn more about Patricia by clicking on her photo.
CLEO FLEMMING
Cello
Cleo teaches cello in the VYOA's Lesson Program. Lessons with Cleo are offered at the Elley-Long Music Center in Colchester. Learn more about Cleo by clicking on her photo.
Enroll Today!
Before we can schedule lessons, students must register online. Once we've received a completed registration, a staff member will contact you with available lesson times. 
Rates
Spring semester pricing includes 14 lessons and a studio recital:
$600 – 30 minutes ($40/service) 

$750 – 45 minutes ($50/service)

$900 – 60 minutes ($60/service)
Spring Recital: Saturday, June 1, 2019 at 11am in the Elley-Long Music Center
Please note: Make up lessons will be offered for no more than 2 absences (with at least 24 hours notice) per semester. Additional missed lessons will not be rescheduled.
Financial Aid
The VYOA believes that no child should be discouraged from participating due to financial need. Need-based financial aid is available to all families who wish to apply. Please contact our office for additional information on Financial Aid options or to receive a hard-copy of the Financial Aid form.
Please email patricia@vyo.org with any additional questions.