The VYOA's Endangered Instruments Program (EIP) is a subsidized private lesson program encouraging students to play those instruments that are typically difficult to recruit for our orchestras (currently including string bass, French horn, trombone and bassoon).  EIP is open to new students who are not yet in private instruction or to VYOA students interested in moving to one of these instruments.
Qualifying students can participate up to three years during which they receive 24 subsidized lessons annually (September – June). Based on a tiered payment schedule, participating students are asked to contribute $10 per lesson during the first and second year; and $15 per lesson during the third and final year. Other requirements are that the student must participate in their school music program and complete a yearly check-in with the audition panel. They must accept their placement in a VYOA orchestra if they are placed in one as a result of that yearly check-in. 
Click here to apply for 2018-19 EIP participation. For further information, contact benjamin@vyo.org.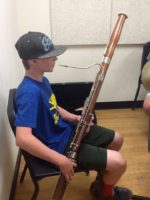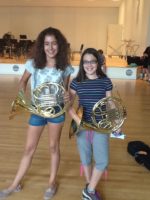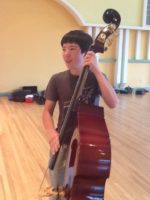 EIP Teachers
Mia Fritze, French Horn
Mia Fritze joined the staff of the Vermont Youth Orchestra in 2005 as Office Manager, switching over to Operations Assistant in 2011. She received her BA in Music Education from Concordia College in Moorhead, MN and an MM in Horn Performance from Northern Illinois University.  Mia teaches horn lessons in Colchester and Montpelier as well as at Middlebury College and continues to play as a member of the Burlington Chamber Orchestra. When not busy with something musical, she can be found playing in the mountains or experimenting with film and digital photography.
Nate Reit, Trombone
Nate Reit received his BM in 2009 from the Eastman School of Music, where he studied with Mark Kellogg and the renowned Dr. John Marcellus. Before his relocation to the Burlington area, he maintained an active freelance career in New York City, performing with such ensembles as the Garden State Philharmonic, One World Symphony, Ureuk Symphony, and TILT Brass. He was also a full time member of the Stan Rubin Orchestra, the Meetinghouse Jazz Orchestra and his brass quintet, New Age Brass. In the fall of 2013 Mr. Reit was given the trombone faculty position at Bloomingdale School of Music, where he taught both elementary and high school aged students. He also taught regularly in public schools as part of New York's Harmony Program and did a short stint of teaching beginning piano and guitar at the Brooklyn Music School. Nate is currently the Head of Brass at Kinhaven Music School Jr. Session (each year in August), where he teaches private lessons, coaches chamber music, and conducts the brass choir.
Bill Tilley, Double Bass
A native Vermonter and VYO alum, Bill Tilley began playing double bass professionally at age 17 when he won an audition for the Vermont Symphony. In 1987 he graduated from the prestigious Curtis Institute of Music in Philadelphia where he studied with Roger M. Scott, former Principal Bass of the Philadelphia Orchestra. Upon graduating, he played regularly with a variety of ensembles, including the Philadelphia Orchestra, the Pennsylvania Ballet and The Opera Company of Philadelphia.
In his seven years as alternate bass with the Philadelphia Orchestra, Bill has worked with the majority of the world's leading conductors, including Sergiu Celibidache, Leonard Bernstein, Wolfgang Sawallisch, Eric Leinsdorf, Georges Pretre and Ricardo Muti. His international career includes tours with the Philadelphia Orchestra to Europe and the Americas, the Salzburg Festival, the Lucerne Music Festival and the BBC Proms. In addition, he has made three recordings with the Philadelphia Orchestra under three different conductors: Ricardo Muti, Charles Dutoit and the late Wolfgang Sawallisch.
Bill is an avid chamber musician as well, playing with many local ensembles including two series for the Lake Champlain Chamber Music Festival, playing with such chamber music greats as cellists Peter Wiley, Edward Aaron and violinist / Festival Director Soovin Kim. He plays for the Vermont Symphony Orchestra, is Principal Bass of the Burlington Chamber Orchestra, and played Principal Bass for the former Vermont Mozart Festival.
A passionate teacher, Bill is the double bass coach for the Vermont Youth Orchestra and has taught many of its students privately. He is founder of the "Wahnfried Studio," in Charlotte, VT, which offers a wide range of musical instruction from general music appreciation and basic musical reading to coaching in historically aware performance practice and musical theory. The mission of the "Wahnfried Studio" is to generate awareness and appreciation for the great traditions of the musical past and to find joy and satisfaction in hard work, which makes substantial art possible. Some of Mr. Tilley's students have been accepted at prestigious music schools such as Manhattan School of Music, Peabody, Eastman and Hart.
Julie Wolfe, Bassoon
Julie Wolfe began playing the bassoon as a teenager, studying with Joseph Polisi at the UVM Summer Session for High School Students.  She spent two exciting years playing in the VYO, becoming enamored of orchestral music and forming many long lasting friendships.  While attending college in Colorado she performed frequently, including several concerts under the direction of Frederick Fennell. Upon returning to Vermont, her studies with Janet Polk renewed her interest in the bassoon and formed the groundwork for her involvement with many local ensembles including the Burlington Chamber Orchestra. Julie maintains a busy teaching studio at her home in Williston. When not playing the bassoon she can be found in her apiary, tending her bees or hiking the beautiful mountains of Vermont.