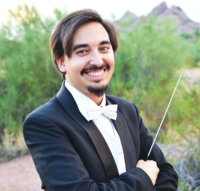 Mark Alpizar
Music Director, Vermont Youth Orchestra Association
mark@vyo.org
Southern California native Mark Alpizar, has enjoyed a multifaceted career as a conductor, clarinetist, and music educator throughout the United States. He is thrilled to begin his third season as music director of the Vermont Youth Orchestra Association.
Prior to his move to Vermont, he was the assistant conductor of the Cleveland Pops Orchestra, the American Youth Symphony, the National Repertory Orchestra, and the Long Beach Symphony. His professional career continues as a regular guest conductor of the Holland Symphony in Michigan.
Committed to music education, Alpizar was instrumental faculty at Lake Erie College in Ohio, and conducting faculty at CSU Long Beach's Bob Cole Conservatory of Music. He was the music director of the Four Seasons Youth Orchestra in Orange County for seven seasons where he commissioned over a dozen new works and toured internationally.
Alpizar received the Doctor of Musical Arts degree from Arizona State University where he created the orchestra's first video game concert and conducted an award-winning production of Poulenc's Les Mamelles de Tirésias. He holds a masters degree and two bachelor's degrees from the Bob Cole Conservatory of Music.
Vermont Youth Orchestra Association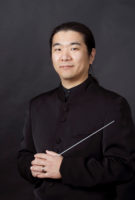 Yutaka Kono
Conductor, Vermont Youth Philharmonia
yutaka@vyo.org
The Artistic Director of the Burlington Chamber Orchestra, Dr. YUTAKA KONO has quickly gained a high reputation as an effective leader of professional, higher education and selective youth orchestras. Dr. Kono also serves as the conductor of Vermont Youth Philharmonia and the Director of Orchestra/Associate Professor of Music at the University of Vermont. Prior to moving to Vermont, he was the Assistant Conductor of the Kingsville Symphony Orchestra (TX). Dr. Kono previously taught at Texas A&M University-Kingsville, The University of Texas at San Antonio, the University of Mary Hardin-Baylor and The University of Texas at Austin. He has been recognized as a finalist for The American Prize for Orchestral Conducting College/University Division (2014), Professional Division with BCO (2015), and Youth Division with VYP (2016). He has studied conducting with Jerry Junkin, Mark Kelly, Eugene Dowdy, Peter Bay and Silas Huff. Dr. Kono was selected to attend the Summer Conductors Institute at the Eastman School of Music where he studied with Maestro Neil Varon and conducted the Rochester Philharmonic.
As a composer and arranger, Dr. Kono's composition "Mamma at the Gate" for Dancers and Electronics earned Bronze Medal of the Global Music Award. His music and arrangements have been performed in multiple countries and are published by Tuba-Euphonium Press, Cimarron Press, SMP Press, and Linus Publications. He studied composition with Alex Lubet, Stephan Paulus, and Donald Grantham, and orchestration with the Pulitzer winner Dominic Argento, Judith Lang Zeimont, and Donald Wilson.
A highly active performer on tuba, Dr. Kono has been seen across the genre. As a soloist, he is the winner of the concerto competition held at the University of Minnesota and soloed with many orchestras and bands in Vermont, Ohio, Minnesota, Texas, and Tokyo. He was the principal tubist of the Victoria Symphony Orchestra (TX), and his orchestral credits include the Vermont Symphony Orchestra, Corpus Christi Symphony Orchestra, Kingsville Symphony Orchestra (TX), San Antonio Symphony Orchestra, Austin Symphony Orchestra, and many others. His diverse interest has led him to perform with non-classical ensembles ranging from Jazz, Dixieland to Rock and Klezmer. He studied the tuba with Ivan Hammond, Ross Tolbert, Steven Bryant, Robert Lindahl, Daniel Perantoni, Harvey Phillips, Donald Little, David Zerkel, David Saygers, Paul Hunt, and Eichi Inagawa. He currently performs with a local tuba-euphonium quartet, MetalWerx.
Internationally recognized as a pedagogue and a strong advocate of music education, Dr. Kono has taught hundreds of private students and provided countless clinics and masterclasses. His students have received awards in regional, national and international competitions. He received Doctor of Musical Arts degree from the University of Texas at Austin, and Masters and Bachelors from University of Minnesota-Twin Cities and Bowling Green State University respectively.
Vermont Youth Orchestra Association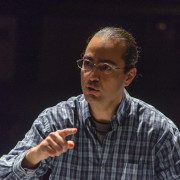 Asiat "Ace" Ali
Conductor, Vermont Youth Strings
ace@vyo.org
ASIAT ALI, a 1988 graduate of the VYO, is the String Instructor for the Essex Junction Public Schools where he teaches beginning through middle school strings and conducts the Essex High School Orchestra. A member of the Vermont Youth Orchestra Assocation's artistic staff, he currently directs the Vermont Youth Strings, and he is the former director of the beginning string ensemble Presto. He also served as interim conductor of the Vermont Youth Sinfonia. He has guest conducted district string orchestras in Vermont, New Hampshire, and New York. In addition he teaches a private studio of violin and viola students. As a violinist, Asiat is a member of the Burlington Chamber Orchestra and has performed with the Vermont Symphony Orchestra, the Dartmouth Symphony Orchestra, the Vermont Philharmonic Orchestra, the University of Vermont Orchestra and the Burlington Choral Society. Asiat began his violin instruction in the third grade with Melissa Brown in the same school system where he now teaches. At the University of Vermont, he earned his Violin Performance Degree as a student of Thomas and Evelyn Read. He then continued his violin studies for two years with Phillipe Quesnel at the Conservatoire National de Region in Rouen, France.
Vermont Youth Orchestra Association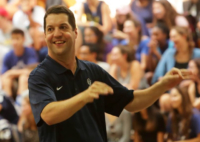 Edward Owens
Da Capo Conductor
ed@vyo.org
A native of Syracuse, New York, Edward Owens has been teaching music in the Burlington School District (VT) since 2005 and is currently the band director at Hunt Middle School. Ed previously taught instrumental music at Dobbs Ferry Middle/High School (Dobbs Ferry, NY), the Ithaca School District (Ithaca, NY) and Cedar Lee Middle School (Warrenton, VA). During his tenure as instrumental music teacher in the Burlington Schools he has taught performance ensembles grades 6-12, including string orchestra, symphonic orchestra, freshman band, concert band, wind ensemble, jazz ensemble, pit orchestra, and pep band. He was voted the Burlington High School "Teacher of the Year" in 2013. Ed is a graduate of Syracuse University with a Bachelors of Music and Masters of Music in Music Education. He is an active performer, conductor and educator performing with many groups including Pine Street Jazz, the Swingin' Vermont Big Band and Vermont Symphonic Winds. He currently resides in Essex, VT with his wife Gretchen and children Isabelle and Teddy.
Vermont Youth Orchestra Association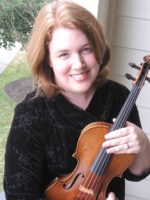 Kathleen Kono
Conductor, Presto & Prelude!
kathleen@vyo.org
KATHLEEN KONO is a music educator both in private violin and violas lessons and group orchestra classes. Originally from Atlanta, Georgia, Kathleen attended Vanderbilt University's Blair School of Music receiving her Bachelor of Music degree then attending The University of Texas at Austin graduating with a Masters of Music degree. She has been the Director of Orchestras at Deerpark Middle School in Round Rock, Texas where she was named Teacher of the Year. Kathleen also taught at Hamlin Middle School and Ray High School in Corpus Christi, Texas where she was also named Teacher of the Year for the Ray High School Campus and was a Semi-Finalist for Teacher of the Year in the Corpus Christi School District.
In 2011, Kathleen and her family relocated to Burlington, Vermont where Kathleen conducts the Presto and Prelude! Orchestras at the Vermont Youth Orchestra Association. She also teaches strings to all 3rd, 4th and 5th graders at the Integrated Arts Academy in Burlington, holds a private Suzuki violin and viola studio and was just named Orchestra Director at Burlington High School. Besides teaching, Kathleen performs with the Burlington Chamber Orchestra where she served on the Musician's Committee. She also is an active parent in the Vermont Suzuki Violin Program and a parent of two VYOA musicians.
Vermont Youth Orchestra Association
Rosina Cannizzaro
Executive Director
rosina@vyo.org
802-655-5030 x 102
Vermont Youth Orchestra Association
Jen Greenwood
Development Manager
jen@vyo.org
802-655-5030 x101
Vermont Youth Orchestra Association
Brea Ghanem
Office Manager
brea@vyo.org
802-655-5030 x 100
Vermont Youth Orchestra Association
Art DeQuasie
Director of Operations
art@vyo.org
802-655-5030 x 108
Vermont Youth Orchestra Association
Myriam Bouti
Operations Assitant & Lesson Program Manager
myriam@vyo.org
802-655-5030 x 104
Vermont Youth Orchestra Association
Brian Johnson
Facilities Manager
brian@vyo.org
802-655-5030 x105
Vermont Youth Orchestra Association
Robin LaPlante
Marketing Consultant, LaPlante Consulting
Vermont Youth Orchestra Association