SPRING CONCERT WEEKEND IS ALMOST UPON US!
Come to any (or all!) of these upcoming concerts that we are proud to present.
Admission at the door, cash or check only please.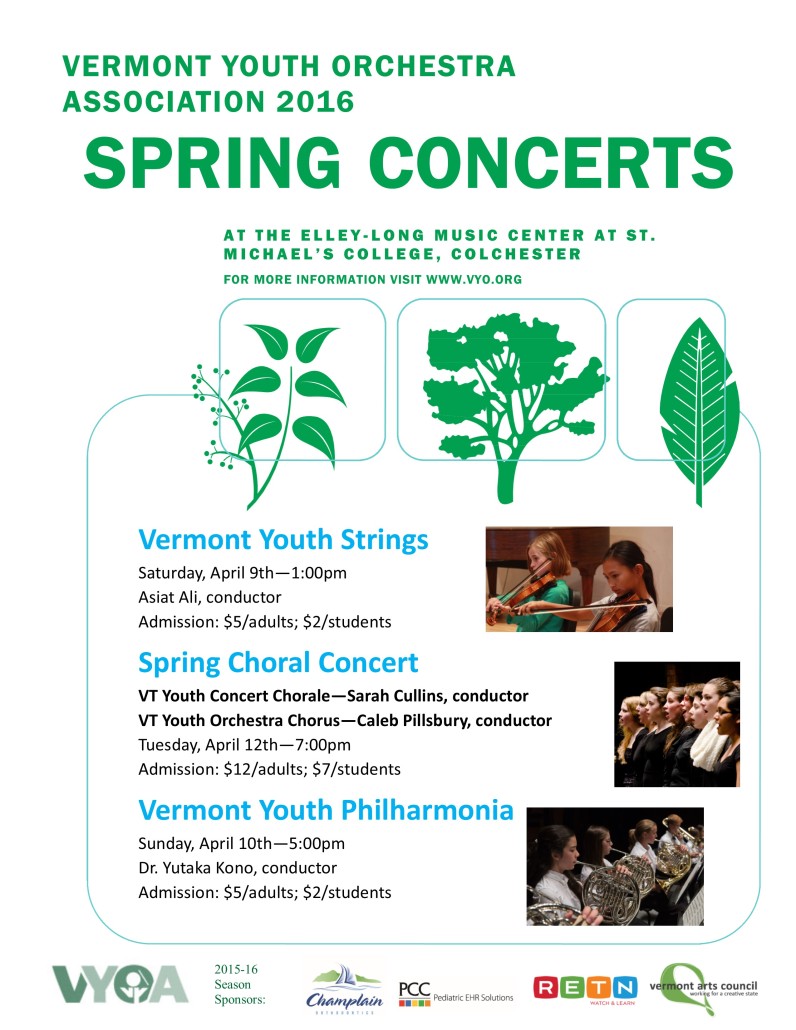 Colchester, VT – After five years of service, Jeffrey Domoto will step down as the Vermont Youth Orchestra Association's (VYOA) Music Director and conductor of its flagship orchestra, the Vermont Youth Orchestra (VYO) following its May 1st concert to pursue other interests in the music field.
Join us on January 31st at the Flynn Center for the Performing Arts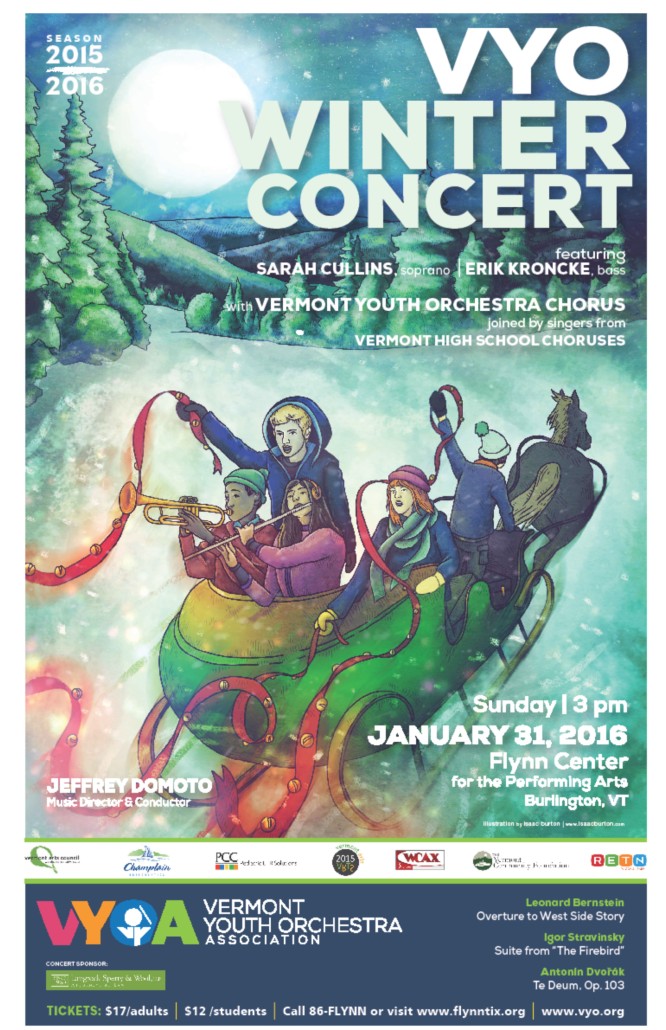 "The winter concert includes some of the most popular works found in the symphony orchestra repertoire. The exciting rhythms and well-known melodies of Leonard Bernstein's Overture to West Side Story opens the concert. Continuing this season's theme of great Russian masterpieces, the VYO performs the Suite from Igor Stravinsky's Firebird.  Finally, hear the VYO joined by a massed choir of the VYO Chorus and area high school choruses performing Antonin Dvorak's Te Deum, Op. 103, a spectacular work that marks the beginning of Dvorak's musical period influenced by American music. Joining the massed choir are soloists Sarah Cullins, soprano, and Erik Kroncke, bass."

Thursday, December 31st, 2015
3:00 pm, No charge
Followed by pie social!
Elley-Long Music Center at Saint Michael's College
Join us for a very special free concert at the Elley-Long Music Center featuring VYO senior soloist Elliot Lowe performing Pakhmutova's Trumpet Concerto. Other works include Gershwin's all-time favorite An American in Paris suite and Strauss' beloved Blue Danube Waltz. The VYO Chorus joins the VYO for other favorites.
This event will be immediately followed by a pie social!
Finally feel ready? Only just found out about us? It's not too late!
Mid-year auditions for our orchestras and choruses are being held in December!
Please contact auditions@vyo.org to schedule an audition. Financial aid is available.
Saturday, October 24th, 11:00 am – 1:00 pm
Do you love to sing? Do you belong in the spotlight? 
Become the master of your voice! In the Vermont Youth Concert Chorale, you will develop your tone, expand your range, strengthen your support and increase your projection. In other words, you will be able to sing higher, lower, stronger, longer and better for all kinds of music! You will also learn to harmonize, read music and sing in different languages, make new friends from schools throughout the Champlain Valley and beyond, and perform in a wide variety of settings, including at the Flynn Center with the Vermont Youth Orchestra!
Come meet master voice teacher and VYCC director Sarah Cullins at University Mall on

Saturday, October 24

between

11am and 1pm

to find out more and even take a quick audition to join this season!
The Jake Kahn 5k Fun Run/Walk is on Sunday Oct 4th at 10:00am to benefit the Vermont Youth Orchestra Association's School Tour program. This is the 5th annual event to raise money for this valuable outreach program which brings VYOA orchestras and choruses to schools around the state. These annual school tours are a great opportunity for VYOA musicians to share their artistry with school children in our region and to get them excited about music, learning an instrument, and performing music with their peers. Each year the VYOA's three orchestras and two choruses perform 8 school concerts for nearly 2,500 school children. This fundraiser helps offset the travel costs of bringing our students to schools in our region.
This annual 5k Fun Run/Walk was organized by VYO trumpeter Jake Kahn in 2011 who is now a senior at CVU. It starts at the Elley-Long Music Center, home of the Vermont Youth Orchestra Association, located at 223 Ethan Allen Avenue in Fort Ethan Allen in Colchester.
Area businesses in support of the VYOA and Jake Kahn have donated some fantastic prizes. Notable large prizes this year include a "Flyboard Vermont" session and a Bash Badge at Smugglers' Notch.
Fleet Feet Sports in Essex Junction has provided $10 coupons to all participants to partially or fully offset the cost of registration.
Registration fees go directly to the VYOA to support this program and are tax deductible.
When:
Sunday, October 4, 2015
Registration at 9:00am
Race Start at 10:00am
Where:
Elley-Long Music Center
223 Ethan Allen Avenue
Colchester, VT 05446
Cost:
Adults: $15
Youth -Age 17: $10
Maximum per family: $40
Please visit vyoafunrun.webs.com to register, to make a donation, or to view prizes and the route