After 8 years, our two choruses will no longer be known as the Vermont Youth Orchestra Chorus and Vermont Youth Concert Chorale. The Vermont Youth Orchestra Chorus (VYOC) will now be known as the Vermont Youth Chorus for singers in grades 8-12. The Vermont Youth Concert Chorale (VYCC) is now the Vermont Youth Chorale for singers in grades 6 & 7. In addition to introducing young singers to repertoire that has stood the test of time, students will also receive private lessons throughout the season, participate in sectionals with master teachers from our region, and perform at the Flynn Center for the Performing Arts. In Summer 2017, singers in Vermont Youth Chorus have the option of participating in a tour of England.
We are delighted to welcome Heather Schoppmann, choral teacher at Camel's Hump Middle School, who will conduct the Chorale next season. Please visit our Chorus & Chorale page to learn more.
Edward Cumming has been named interim conductor of the Vermont Youth Orchestra starting in August 2016. Mr. Cumming will conduct the VYOA's top-tiered orchestra during the 2016-17 season, while a national search takes place for the music director position.
Mr. Cumming is the Primrose Fuller Professor of Orchestral Activities at The Hartt School, the music school of the University of Hartford. As a highly acclaimed conductor, he served as the music director of the Hartford Symphony from 2002-2011. Prior to joining the Hartford Symphony, he was the resident conductor of the Pittsburgh Symphony and music director of the nationally-acclaimed Pittsburgh Youth Symphony Orchestra.
As a guest conductor, his international work includes conducting Orquesta Ciudad de Granada (Spain), South Bohemian Chamber Orchestra (Czech Republic), BBC Ulster Orchestra (Belfast), Belgrade Philharmonic (Serbia), Orchestra Sinfonica di Roma, Singapore Symphony Orchestra, the Israel Sinfonietta Be'er Sheva, and the Filharmonica de Bogota. In the United States, he has guest conducted the Los Angeles Philharmonic, Detroit Symphony, Buffalo Philharmonic, Oregon Symphony, the San Diego, Santa Barbara, Pacific and Long Beach symphony orchestras, Rochester Philharmonic, San Antonio Symphony, Knoxville Symphony, and the Boston Pops.
In addition to his music directorship with the Pittsburgh Youth Symphony Orchestra, Mr. Cumming was the founding music director of the Pacific Symphony Institute. He has taught at Yale University, California State University in Fullerton. University of South Florida in Tampa, and Pacific University (OR).
We look forward to having Mr. Cumming work with our students next season.
The VYO Spring Concert is now available for online viewing at http://www.retn.org/show/2016-vermont-youth-orchestra-spring-concert or https://vimeo.com/166201353.  The performance will air on RETN Channel 16 on Thursday, May 26th at 8:30pm. The program will also air on other local channels throughout Vermont. Please check your local listings. Don't forget to tell your friends & family to tune in! This and past performances are available for online viewing and purchase through RETN at retn.org.
SPRING CONCERT WEEKEND IS ALMOST UPON US!
Come to any (or all!) of these upcoming concerts that we are proud to present.
Admission at the door, cash or check only please.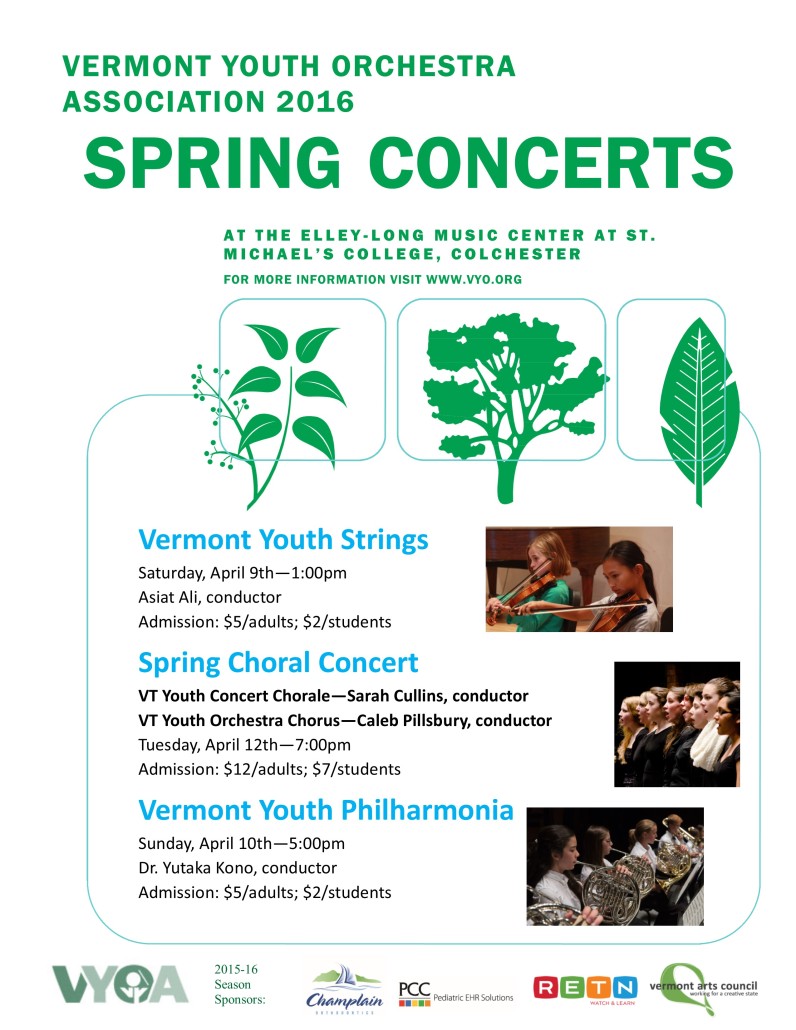 Colchester, VT – After five years of service, Jeffrey Domoto will step down as the Vermont Youth Orchestra Association's (VYOA) Music Director and conductor of its flagship orchestra, the Vermont Youth Orchestra (VYO) following its May 1st concert to pursue other interests in the music field.
Join us on January 31st at the Flynn Center for the Performing Arts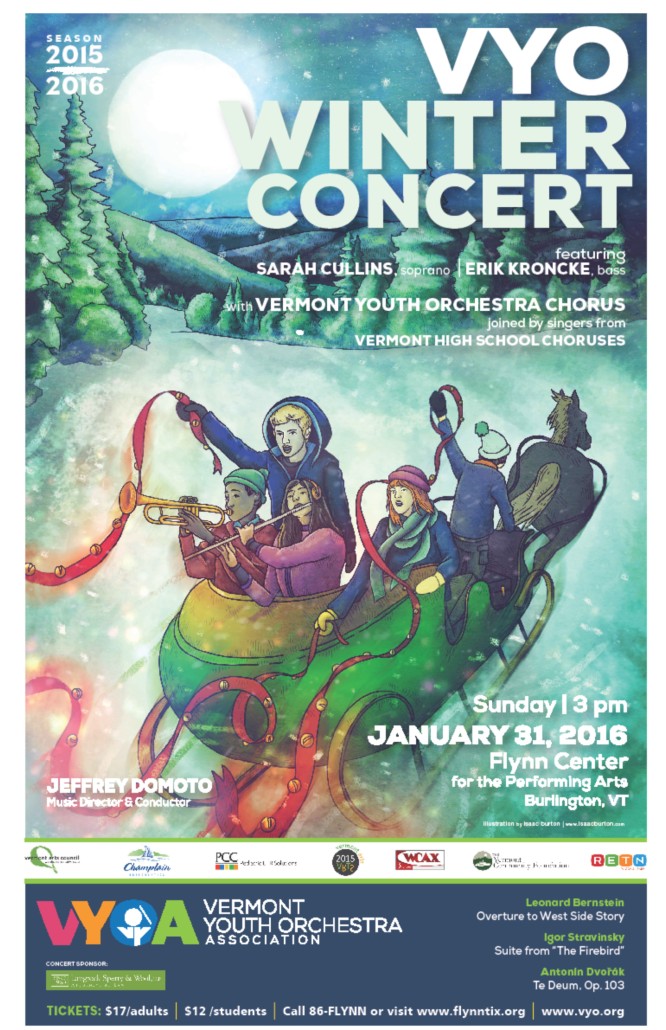 "The winter concert includes some of the most popular works found in the symphony orchestra repertoire. The exciting rhythms and well-known melodies of Leonard Bernstein's Overture to West Side Story opens the concert. Continuing this season's theme of great Russian masterpieces, the VYO performs the Suite from Igor Stravinsky's Firebird.  Finally, hear the VYO joined by a massed choir of the VYO Chorus and area high school choruses performing Antonin Dvorak's Te Deum, Op. 103, a spectacular work that marks the beginning of Dvorak's musical period influenced by American music. Joining the massed choir are soloists Sarah Cullins, soprano, and Erik Kroncke, bass."