Find reflections on our Fall Concerts from conductors, Edward Cumming and Dr. Yutaka Kono as well as Martha Pullen's reflections on Autumn Promenade, our annual fundraising event. Also, reserve your tickets to this Saturday's Rug Concert! All this and more fall fun in our October e-newsletter!
Check out WCAX's video for our flagship orchestra's Fall Concert. Join us for the Vermont Youth Orchestra's season opening performance as we welcome Maestro Edward Cumming to the podium. Click here to purchase tickets. We hope to see you Sunday!
There's a lot of exciting things happening here at the VYOA this month and throughout the season. In our September Newsletter, you'll get details about our Fall Concert weekend coming up later this month. You'll also be invited to Autumn Promenade, our elegant fundraising event on Thursday, September 29th. Learn about the Tour of England happening Summer 2017 and how you can travel with us! In addition, there's still time to join our choral program, and registration for Presto, our preparatory strings program, is now open.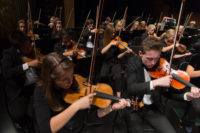 Join us for Vermont Youth Orchestra's entire concert season by purchasing a subscription for all three Flynn Center performances. Season tickets go on sale this Friday, August 26th and are available until Friday, September 23rd. Ticket subscriptions are available in person at the Flynn Center Box Office or by mailing in the subscription order form, which is also attached to our season brochure. Adult subscriptions are $45 and student subscriptions are $30. Lock in this discounted ticket price for a limited time only! We look forward to seeing you this season.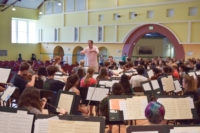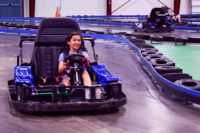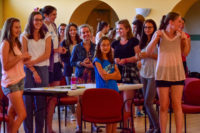 VYO and VYP started their 2016-17 season last week with a spectacular Reveille! music camp. The five-day camp flew by in a wink of an eye and was filled with fun and inspiring rehearsals and activities each day.  The VYO, under Interim Conductor Dr. Edward Cumming, filled the Elley-Long Music Center with beautiful rehearsals of Dvorak's Symphony No. 8 and Sibelius's Finlandia. VYP, under their conductor Dr. Yutaka Kono, gave a powerful start to their first rehearsals with The Tempest by Robert Smith, music from Indiana Jones by John Williams, along with arrangements of Jupiter by Holst and Overture to Rienzi by Wagner. By Tuesday afternoon, the impressive progress of both orchestras inspired the plan for a short end-of-camp concert for the parents. This concert included a rousing VYO/VYP side-by-side performance of Bizet's Farandole from L'Arlesienne Suite No. 2.  The orchestras received this piece only on Thursday for their Friday performance! The concert also included VYO playing Finlandia and VYP performing The Tempest.
Many thanks go to our dedicated Camp Life Staff, led by Andrew Riegler, for providing activities that helped the students bond as friends and musicians. There were many activities that called upon groups of students to create solutions to fun problems.  Other activities got the heart rates up, such as kickball, dancing, and soccer. Wednesday afternoon was unforgettable with an outing to Skateland.  Roller skates, bumper cars, bouncy houses, and go-karts kept all of us, staff included, greatly entertained. Congratulations to VYO and VYP for such great spirit and a fantastic beginning to the season!
By Art DeQuasie, Director of Operations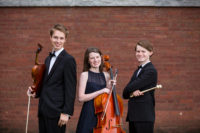 Each season, the VYOA features outstanding seniors as soloists with the Vermont Youth Orchestra. These individuals have displayed great technical prowess, sophisticated musicality, and exemplary organizational involvement. Each student will perform their concerto at the Flynn Center for the Performing Arts with the VYO during the 2016-17 concert season.  We would like to congratulate percussionist Connor Zwonik, cellist Caroline Tally, and violist Isaac Hilton vanOsdall for their outstanding achievement! Please be sure to attend all VYO performances this season to hear these accomplished individuals perform with the orchestra. Bravi Connor, Caroline, and Isaac!