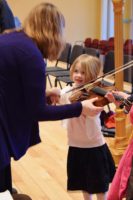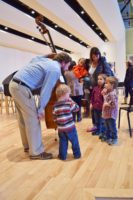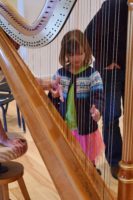 Upcoming Rug Concerts:
Saturday, October 13, 2018 at 11am – SOLD OUT!
Sunday, October 14, 2018 at 12pm – SAINT ALBANS, VT
Saturday, January 12, 2019 at 11am – SOLD OUT!
Saturday, March 16, 2019 at 11am – SOLD OUT!
VYOA Rug Concerts for Children 5 and Under
"Ed and I took Audrey to this one! […] She sat on my lap; was enthralled to bits; followed the music and movements; touched the instruments. All in all a great hour for her and us!" – Lina Soliman Plantilla
This music series is for our youngest concertgoers. Rug Concerts introduce small children to instruments, singers, and composers in an intimate and child-friendly setting. This interactive concert format allows youngsters to experience classical music in a special way. Each 45 minute concert features 4-5 different instrumentalists and vocalists who perform and introduce their instruments. At the end of the concert, children have the opportunity to go up to meet the instrument and the musician.
Are you planning to join us for our next Rug Concert? If so, explore and sing along with "The Hello Song" and "The Goodbye Song," which we will sing together at the concert!
The Hello Song
The Goodbye Song
Children are $5 and adults are $10.
To ensure an intimate and child-friendly setting, seating is limited. Please call (802) 655-5030 x100 or fill out the form below to reserve your tickets. Form will be deactivated and tickets will no longer be available by phone once we reach maximum seating.
With support from: