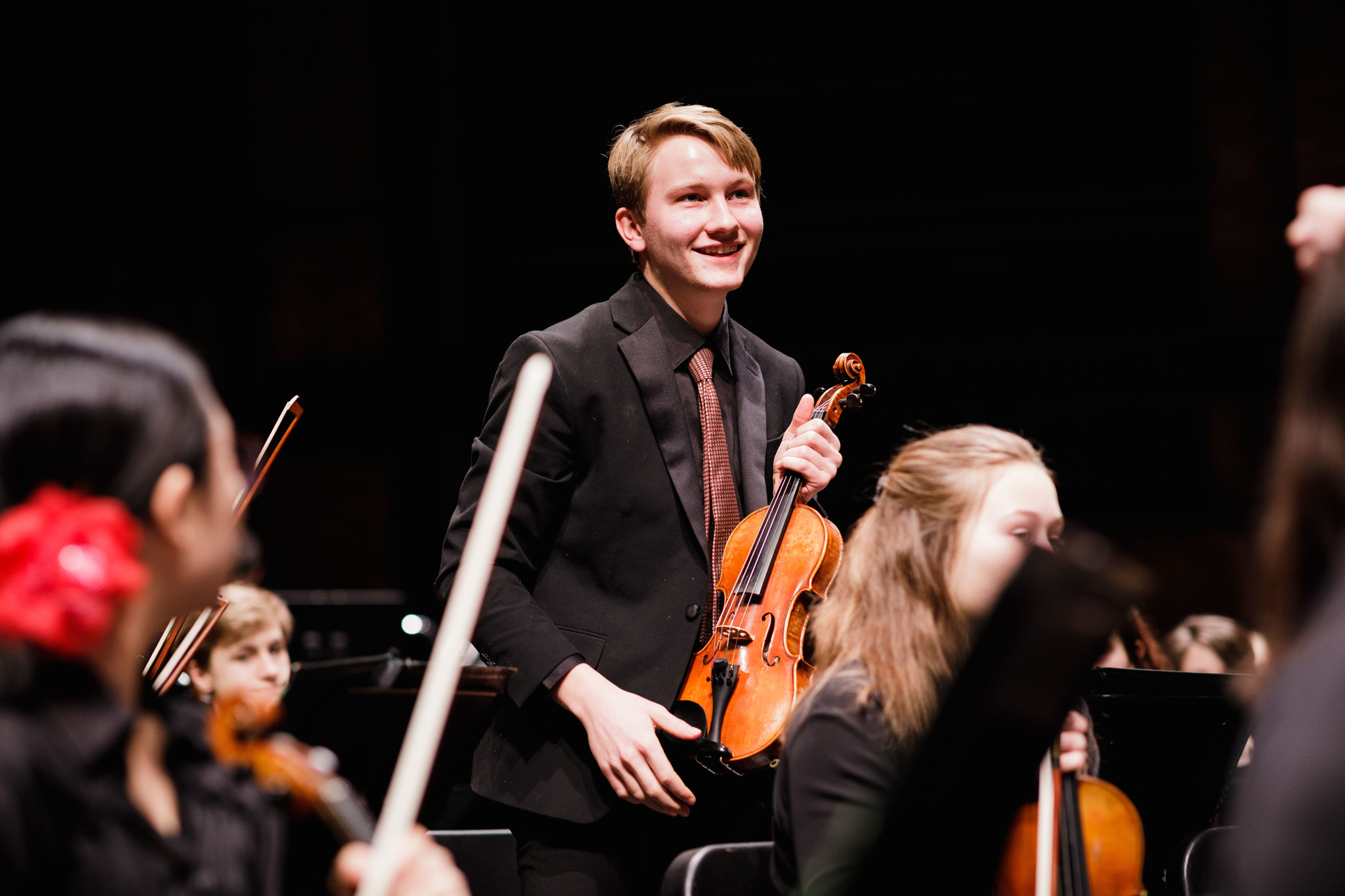 Kai Williams, violin
Vergennes Union High
VT Youth Orchestra – 2 years
VT Youth Philharmonia – 3 years
VT Youth Strings – 2 years
Photo credit: Keith MacDonald
What role does music play in your life?
I think that music is my primary mode of emotional expression, both in composition and playing. A lot of what I do day to day is very intellectual, so the opportunity to make music balances that cerebral dominance. I can really let go for a few hours at a time and just release my tension and stresses.
What do you enjoy most about playing in an orchestra?
I love the broad variety of emotions that an orchestra can express. It's an amazing feeling to be able to help express tenderness and love (the 2nd movement of the New World Symphony comes to mind) and fiery energy (the 4th movement, for instance) fifteen minutes apart from each other.
What advice would you give to younger music students as they strive to build their skills?
I think that the best advice I can give is to never be satisfied with any one extreme. Don't let music consume your life, but don't shut it out either. Don't focus solely on technical skills, but don't ignore it either. Music is constantly a compromise, and the more you realize it, the more versatile you can become.
What kinds of changes would you like to see in the orchestral world?
For one, I'd like to see clapping between movements become acceptable again. It's such a natural thing to do, especially for those not deeply familiar with classical music already, that it plays into the reputation of classical music being snobby. I think that even just the end of that one taboo would make a good start towards making classical music more relevant to broader culture.
What is your favorite VYOA memory?
It has to be rehearsing and playing the first 30 bars of the second movement of the New World Symphony. The beauty of the English Horn solo never ceases to move me, and the chance to play in it person was one of the most powerful experiences I have ever had.
Apart from orchestral music, what other kinds of music do you listen to? Do other genres influence what you hear in orchestral music?
I listen to a lot of French rock, as well as other types of rock. I think that the pared down simplicity of the genre (and other popular music, in general) helps me appreciate the complexity of orchestral music more clearly. It also serves as a welcome contrast.
What do you plan to study in college and how did you make your choice?
I am planning to be a math major in college (with a potential minor in composition). I don't think I have ever really had to consciously make a choice; I have always loved math and been interested in it, and so it just feels like a natural decision. I am still up in the air about composition.
Congratulations Kai! Thanks for sharing your sense of humor with us all these years & we wish you the best of luck!