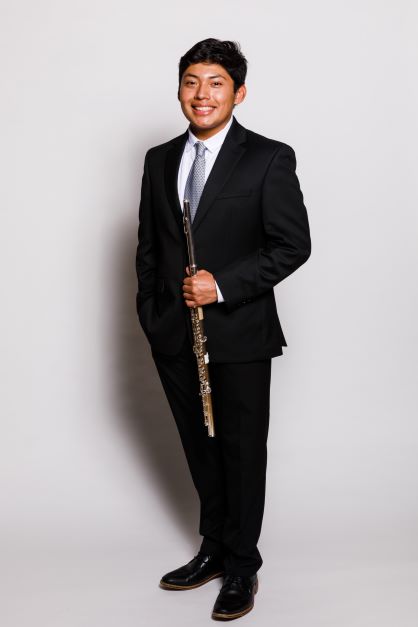 Logan Crocker, flute & piccolo
Colchester High
VT Youth Orchestra – 2 years
VT Youth Philharmonia – 1 year
Logan was our Fall VYO Concert Senior Soloist and will be performing on the Hermance Prize Recital on Wednesday, April 13, along with this year's other Senior Soloists. It has been a pleasure to watch him grow into the musician that you can hear in the last two years of VYO concert recordings . If you hear the piccolo, that's Logan!
Why do you like your instrument & how did you choose it?
I chose the flute when I was in 5th grade when we had the option to learn an instrument. I don't remember the exact reason why it chose it, but it always stood out to me. I love the flute because of the different voices it has and how you can change it depending on tone and vibrato. This gives me the opportunity to explore and learn new thing about the flute, while also challenging me.
What has been your biggest musical challenge & how did you overcome it?
My confidence has always been a challenge for me. When I was younger I would get really nervous playing in front of anyone. Auditions and recitals would be hard for me and it was discouraging. However, with the more experiences I had with performing and taking auditions, I became more confident in myself and my playing ability.
What is your favorite VYOA memory?
My favorite VYOA memory is when I had the opportunity to perform the first movement of Mozart's Flute Concerto in G major with the VYO at Spruce Peak. It was a great growth experience for me and helped me become a more confident musician.
If you know, what do you plan to study in college & how did you make your choice?
I plan on studying flute performance in college. Although I don't know where I will be attending yet, I have been accepted into the Jacobs School of Music and other programs. I've know I wanted to do something with music since 8th grade, but it wasn't till my sophomore year when I knew I wanted to go for flute performance. Music has always been an important part of my life and I couldn't imagine doing anything else.