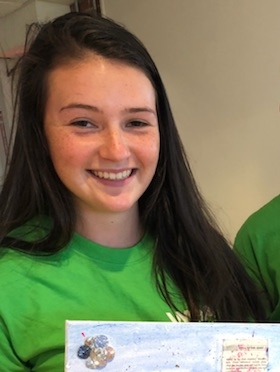 Riley Fitzgerald
Essex High
VT Youth Orchestra – 4 years
VT Youth Philharmonia – 1 year
VT Youth Sinfonia – 2 years
VT Youth Strings – 1 year
Presto – 2 sessions
How did you choose your instrument over all of the others? 
My aunt played violin and growing up I watched her play and begged my parents to let me play it as well.
What role does music play in your life?
On top of playing music every week with the VYO I grew up listening to all types of music being exposed to different genres by my parents. It has now been a source of relaxation and stress relief. Music is constantly playing in my house or as I do homework or have any free time.
What do you enjoy most about playing in an orchestra?
I love the camaraderie that is built playing in an orchestra and how we all come together to make one song.
What advice would you give to younger music students as they strive to build their skills?
I would tell younger musicians to stick with it even if it becomes difficult.
What kinds of changes would you like to see in the orchestral world?
I think that on top of classical pieces it would be interesting for orchestra to perform arrangements of more modern pieces.
What is your favorite VYOA memory?
My favorite VYOA memory is the Reveille camp games and bonding with people from different sections outside of the violins.
Apart from orchestral music, what other kinds of music do you listen to? Do other genres influence what you hear in orchestral music?
I like to listen to pop, alternative, and rap music. This influences what I hear in orchestra because I think it makes me more aware of the pulse and beat played throughout the orchestra.
What other activities do you participate in? 
I play soccer and do Nordic skiing
What do you plan to study in college and how did you make your choice?
I am considering aerospace engineering I have always loved design and physics so I found that aerospace was a good mix between physics as well as design elements.
Congratulations Riley! It has been fun watching you & your fellow Essex string players grow up over the last 9 years!