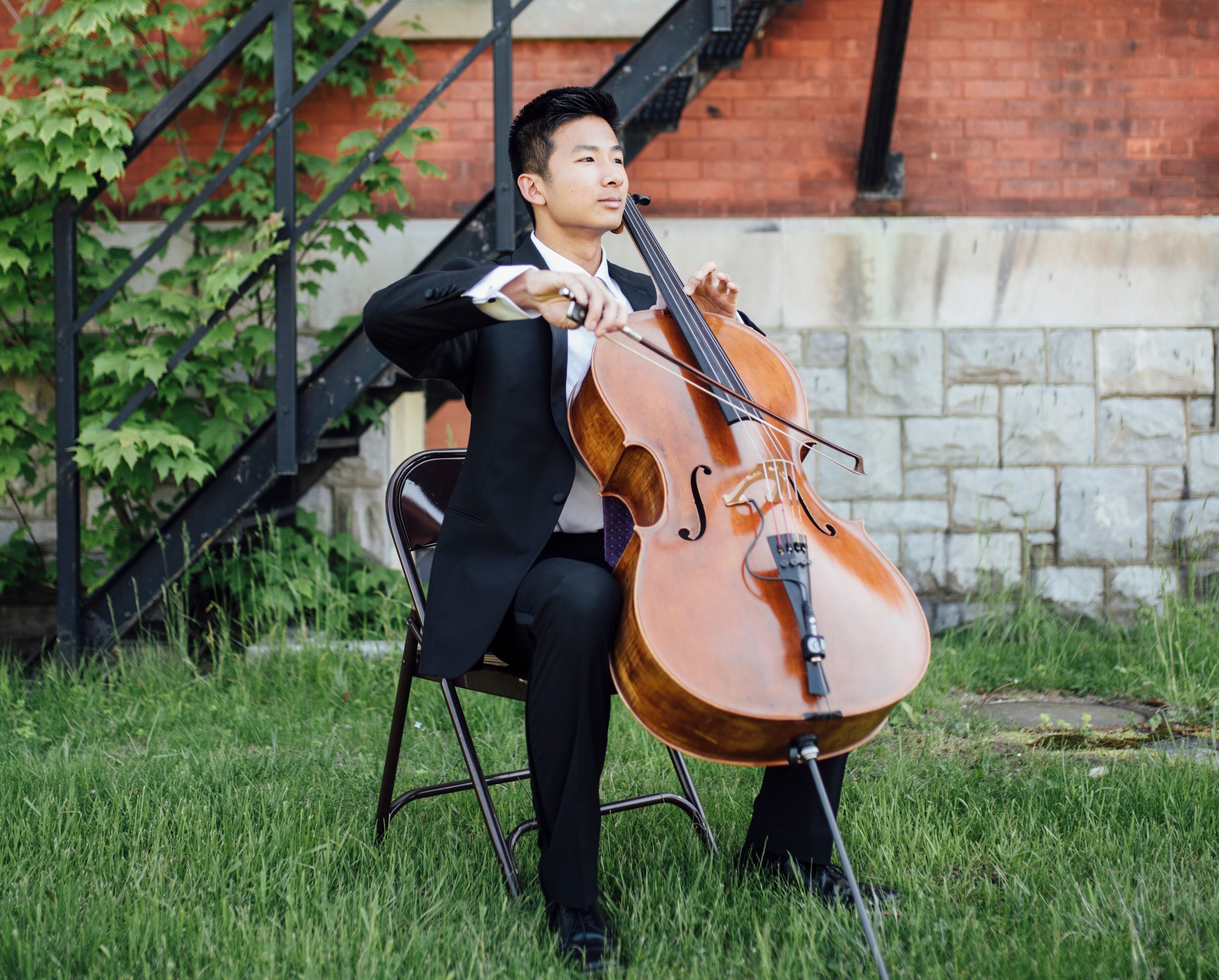 Henry Wu, cello
Essex High
VT Youth Orchestra – 5 years
VT Youth Philharmonia – 2 years
How did you choose your instrument over all of the others?
I began playing the cello in fourth grade through the orchestra program at Founders Memorial School. My music teacher, Mr. Valyou, showed the class a video of The Piano Guys (a music group featuring a pianist and a cellist) playing a Star Wars medley. I was awestruck by the video, and at that point I had already played the piano for a few years, so I decided that I wanted to play the cello as well!
What role does music play in your life?
Music serves me many purposes; it is a stress reliever, a form of communication, and a powerful expressive medium. Music transcends cultural and social barriers because it can generate shared emotions without the need for shared experiences. I perform music to communicate my emotions and other messages to people. I also use it as a self-centering and reflecting tool to understand myself better.
What was your biggest musical challenge & how did you overcome it?
In my sophomore year of high school, I joined a social justice band called SoundCheck and learned to play rock and pop music on my cello. I was challenged to share messages with explicit social & political meanings through an instrument while supporting the vocals and other instruments in the band. To do this, I needed to "unlearn" some of my classical training and focus on the direct connection between message and emotion, bypassing technique. Through my two years as part of SoundCheck, I became a more versatile musician able to play different genres of music and learned to form a stronger emotional connection to my music.
What kinds of changes would you like to see in the orchestral world?
I hope that orchestra music (and all forms of classical music) can become more accessible to people of all backgrounds and socioeconomic statuses. Today, classical music is still largely seen as an archaic, formal activity for the wealthy, which means that many people miss out on the joy of shared emotion that comes with classical music. I would like to see classical music become truly available to everyone through informal performances, increased educational opportunities, and diverse ensembles that reflect the general population.
What is your favorite VYOA memory?
One of my fondest VYOA memories is the final day of Reveille in 2018, when we participated in a self-portrait workshop at Burlington City Arts and had a concert at City Hall Park where we witnessed Dr. Klemme juggle.
What college or university do you plan to attend and what do you plan to study?
I will be attending Harvard University & I plan to study education and/or quantitative social science with a focus on public policy. I was interested in math from a young age, but I have recently become concerned about the societal issues that we face, from climate change to systemic racism. I hope to combine both of these passions and use applied math or data science to analyze how effective governmental policies are at addressing these issues. The other academic interest of mine, education, stems from the fact that education can provide enormous social mobility and empower people to become changemakers in the areas that they are passionate about.
Congratulations Henry! Your musicianship, friendship, and leadership have been an inspiration to us all over the last 7 years. We can't wait to see what amazing things your future holds!