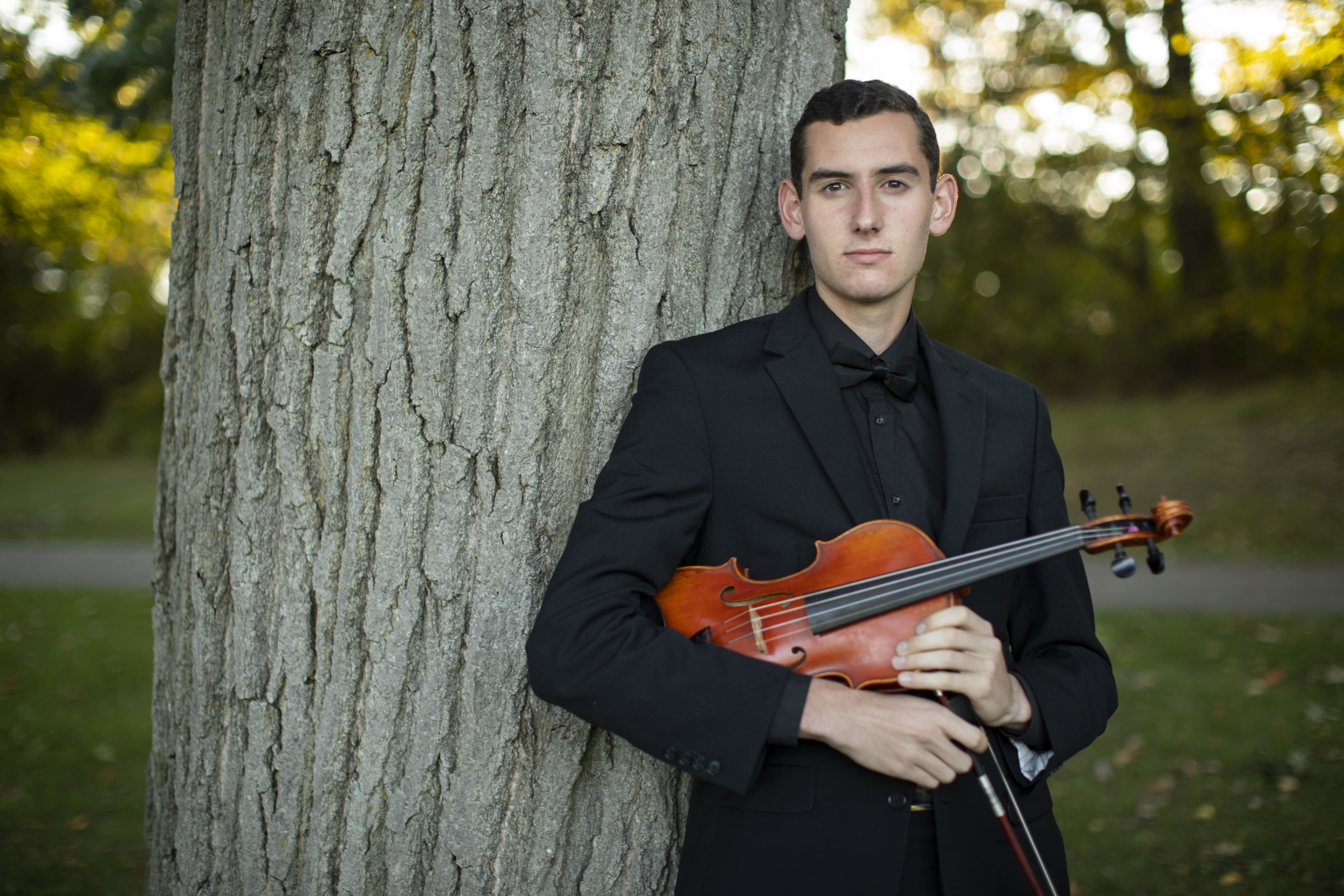 Lucas Parascando, violin
South Burlington High
VT Youth Orchestra – 5 years
VT Youth Philharmonia – 1 year
VT Youth Sinfonia – 3 years
VT Youth Strings – 1 year
Presto – 1 session
How did you choose your instrument over all of the others?
I began playing the violin when I was four years old because I liked the sound and wanted to play a string instrument.
What role does music play in your life?
Music is huge in my life, as I've grown up learning its intricacies through the violin, and later, the clarinet. Playing music allows me to relax and destress, and it's a lot of fun teaching myself increasingly more complex pieces.
What do you enjoy most about playing in an orchestra?
The orchestra is a massive team working toward the same goal, and being a part of the multitude of instruments that make up the machine is a unique experience. In my experience as a violinist, playing the same part as ten or more other people creates a great sense of camaraderie where everybody has each other's backs.
What was your biggest musical challenge & how did you overcome it?
I've had points (most people have) where I really didn't want to keep playing and would go a week or two without picking up my violin. In the end, though, I've always come back and kept at it, because making music has become a part of my life that I can't really let go of. Once I pick up my instrument I remember why I enjoy it so much and am reinvigorated to continue practicing.
What advice would you give to younger music students as they strive to build their skills?
Instruments are really difficult technically and there is always someone better out there. Comparing yourself to other musicians is a path to disappointment and an easy trap to fall into. Instead, compare your playing to where you were yesterday, or a month ago. It takes a lifetime to master music, and the perfect recordings we see on the internet or through music apps took years of heavy practice to achieve at that level. Keep striving to do your best, not somebody else's best.
Apart from orchestral music, what other kinds of music do you listen to? Do other genres influence what you hear in orchestral music?
I listen to classical, hip-hop, and rap for the most part. I wouldn't say I hear orchestral music any differently because of the other genres I listen to.
What other activities do you participate in?
I run cross country, nordic ski, sail, and play the clarinet. I'm also an Eagle Scout and red belt in Taekwondo.
What college or university will you attend next year & what do you plan to study?
United States Military Academy, majoring in Life Science as I've been interested in biology and the human body for years.
Congratulations Lucas! It has been a privilege to watch you grow up over the past 10 years!