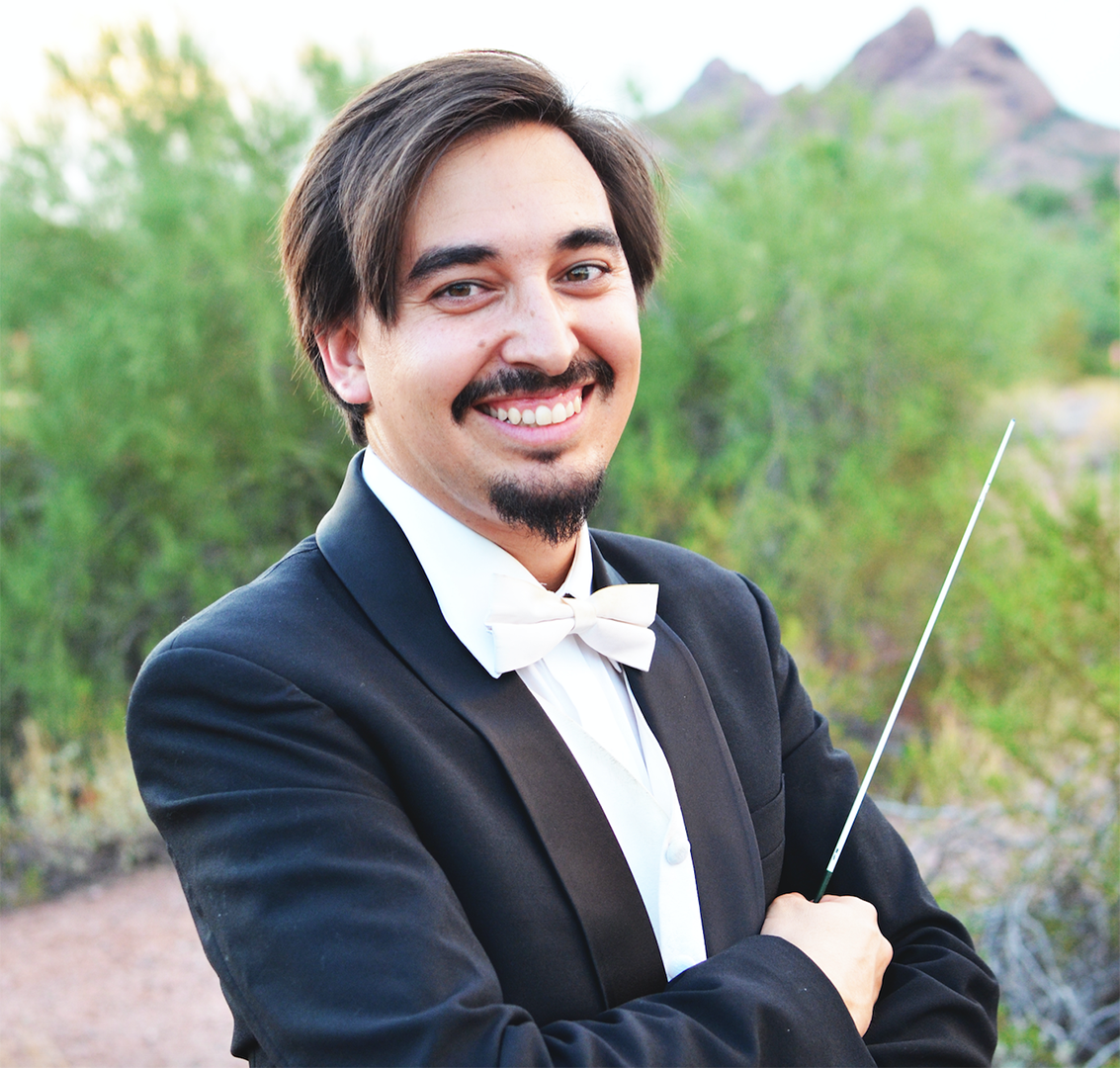 The Vermont Youth Orchestra Association (VYOA) has named Mark Alpizar, D.M.A., Cleveland, OH, to the position of music director, effective July 1, 2020. Alpizar succeeds Dr. Benjamin Klemme, who served as music director from 2017-2019 before leaving for a faculty music position at Gordon College. Dr. Edward Cumming, a member of the faculty at the Hartt School in Hartford, CT, serves as interim Vermont Youth Orchestra conductor for the 2019-2020 season while the organization conducted a national search.
Southern California native, Mark Alpizar, has enjoyed a multifaceted career as a conductor, clarinetist, and music educator throughout the United States. He is currently the assistant conductor of the Cleveland Pops Orchestra, and instrumental faculty at Lake Erie
College in Painesville, Ohio.
Prior to his move to Northeast Ohio, Alpizar was the assistant conductor of the Long Beach Symphony Orchestra, the National Repertory Orchestra, and the American Youth Symphony Orchestra. Committed to music education, Alpizar was the music director of the Four Seasons Youth Orchestra in Orange County for seven seasons where he commissioned over a dozen new works, toured internationally, and conducted side-by-side performances with the
Dana Point Symphony.
"We are excited to welcome Mark and his family to Vermont and to our community," said Lisa Shelkrot, chair, VYOA Board of Directors. "His experience and proven success with the Four Seasons Youth Orchestra in Orange County for seven seasons made him an ideal candidate. It became all the more apparent during his time here meeting with VYOA constituents and engaging with our young musicians, that he was the music director to lead us into our next chapter."
"I am thrilled to join the artistic team of the established and progressive Vermont Youth Orchestra Association," Alpizar said. "It will be a dream-come-true to collaborate with VYOA's talented young musicians as we provide meaningful and relevant musical offerings to Burlington and beyond. I look forward to helming this great orchestra through its next chapter of national and international prominence."
Alpizar received the Doctor of Musical Arts degree from Arizona State University where he created the Orchestra's first video game concert, conducted an award-winning production of Poulenc's Les Mamelles de Tirésias, studied conducting with Jeffery Meyer and Tito Muñoz, and studied clarinet with Robert Spring and Joshua T. Gardner. He holds a masters degree and bachelors degrees from California State University, Long Beach's Bob Cole Conservatory of Music and was proud to return to his alma mater as conducting faculty in 2019.
For over 50 years the Vermont Youth Orchestra Association (VYOA) has been a leader in shaping our region's young musicians. This season, over 300 musicians in grades 1 – 12 represent 60 elementary, middle, and high schools and hail from 41 towns from across Vermont and neighboring states. With a commitment to children of all ages, the VYOA offers a wide range of programming; this includes three orchestras, three training programs for beginning to intermediate strings, winds, and brass students, a percussion ensemble, a private lesson program,
school partnerships and community initiatives, summer camps, and an early childhood concert series. You can hear VYOA musicians of all ages perform over 20 concerts, recitals, and community engagement presentations throughout the 2019-2020 season.