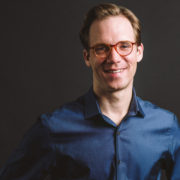 The Vermont Youth Orchestra Association (VYOA) has named Benjamin Klemme, D.M.A. of Davenport, IA, to the position of music director, effective July 1, 2017. Klemme succeeds Jeffrey Domoto, who served as music director from 2011 until his resignation in May 2016. Edward Cumming, a member of the faculty at the Hartt School in Hartford, CT, served as interim Vermont Youth Orchestra conductor for 2016-2017 season while the organization conducted a national search.
Currently, Klemme holds concurrent positions as music director and conductor, Quad City Symphony Youth Ensembles, and associate conductor, Quad City Symphony Orchestra, both located in the Davenport area, as well as concert orchestra conductor, Greater Twin Cities Youth Symphonies, and orchestra conductor, Augsburg College, both located in Minneapolis, MN.
Previous experience includes positions as assistant and associate conductor for other professional orchestras such as the Cleveland Pops and National Repertory Orchestras, as well as the collegiate program at the University of Minnesota. He has also served as a faculty member at the MacPhail Center for Music, Minneapolis, Santa Fe Youth Symphony Association, and New Mexico School for the Arts.
"We are all looking forward to Benjamin's arrival," said Mike Noble, chair, VYOA Board of Directors. "This was a very competitive search, indicative of the amount of attention the VYOA receives from music organizations across the country. Benjamin brings a wealth of experience to the VYOA and he stood out as the unanimous choice to lead us forward. Paired with our executive director, Rosina Cannizzaro, the organization has an exciting future ahead.
"At the same time," Noble continued, "I want to recognize the wonderful work Edward Cumming did with us as interim conductor of the Vermont Youth Orchestra this year. His willingness to join us on Sundays from Hartford, CT, for rehearsals and the concerts was a monumental effort."
"I am extremely honored to have been invited to join the VYOA as music director," said Klemme. "The VYOA is a cultural treasure with a strong tradition of musical and educational excellence. I look forward to working with the many individuals who comprise the VYOA community in order to sustain its artistic distinction, and empower its students to achieve their potential in ways that enliven and enrich Vermont's cultural atmosphere."
Klemme received a Bachelor of Music in Music Education from the University of Northern Iowa, a Master of Music in Orchestral Conducting from the Cleveland Institute of Music, and a Doctor of Musical Arts in Conducting from University of Minnesota. He and his family will be relocating to Vermont this spring.
Please join us in welcoming Dr. Klemme to the VYOA family!