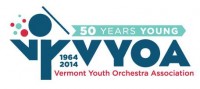 The Vermont Youth Orchestra Association celebrates 50 years!!
There is something about the VYOA that brought you to our website, and we're glad you're here!
What do you love about the VYOA?  Do you have fond memories as a former VYOA student? Are you a parent of a current or former VYOA student?  Maybe you've been to a performance and experienced the joy of music played by exceptionally gifted young people from across the state.
Whatever it is that you love about the VYOA, it's made possible by generous support from individuals like you who understand the value and know the joy of music.
Please consider making a gift today to help the VYOA offer another 50 years of music education and performance guided by a clear mission:
"To develop young people as artists, citizens, and leaders
through the shared pursuit of musical excellence."
Right now, everyone who makes a gift of $100 or more receives a 50th anniversary mug!  Never donated to the VYOA?  All first-time donors who give $50 or more also receive a mug.  Act now to be sure you get yours!
Want to help us use your donation to its fullest potential?  Add $5.00 to your gift to cover the shipping costs.  Either way, we're glad to send it to you, and we are so grateful for your support!  Thanks for celebrating this amazing milestone with the VYOA: Music for youth. Music for life!