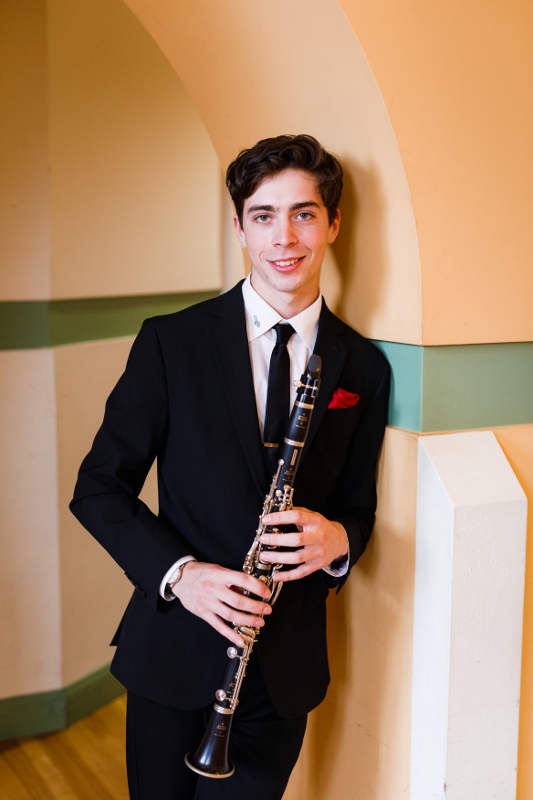 Mason Davis, clarinet
St. Johnsbury Academy
VT Youth Orchestra – 2 years
Photo: Keith MacDonald
Why do you like your instrument & how did you choose it?
I first chose the clarinet because my dad played in middle school when he was a kid. I quickly improved and enjoyed playing. I love the clarinet because it has a large range with many different timbres. While It can handle quick technical passages, it is also is commanding enough to play solo.
What role does music play in your life?
Playing music is definitely a huge part of my life. I enjoy practicing and playing every day, and participating in ensembles with my friends. Music allows me to focus my attention and improve at a skill.
What has been your biggest musical challenge & how did you overcome it?
For a very long time (into my junior year) I played on a beginner plastic instrument. I knew that it was holding me back and that I needed to upgrade. I saved up and sought employment over the summer from my violin teacher. After a lot of research and many conversations, I visited a Buffet factory outlet in New York City to buy my new clarinet. The instrument made a huge difference in my playing, and I enjoy playing on it to this day.
What advice would you give to younger music students as they strive to improve their skills?
As you are learning, make sure to listen to professional players and how they play. However, instead of comparing yourself to them and being discouraged, think about what they are doing differently and how you can replicate it. Never forget to look back at your own playing and appreciate how far you have come.
What is your favorite VYOA memory?
I am very lucky to have been given the opportunity to play Debussy's Premiere Rhapsodie with VYO. It has been an amazing, insightful, and inspiring experience to rehearse the Debussy with the Romantic Orchestra.
What other activities or sports do you participate in?
In addition to the clarinet I also play the drums and the violin. I enjoy staying active and playing ultimate frisbee, alpine skiing, cross country running, and Soccer. I also enjoy doing photography and cinematography.
How has the pandemic effected your practice & performance of music or participation in your other activities?
All musicians have been hit hard during the pandemic. Music is a form of communication, and for the past year we have been confined to practicing mostly by ourselves in our homes. While the pandemic has given me a lot of free time, it is hard to keep motivation and inspiration during these times.
What are some of the things that you have done to help cope with the pandemic's shutdown & quarantine requirements?
I use regular exercise to keep me healthy and motivated. It helps a lot, especially when we are all stuck at home.
What do you plan to study in college & how did you make your choice?
I will be studying either at Boston Conservatory or Jacobs School of Music. I have known for a long time that I wanted to pursue a clarinet performance degree in college. Music has always been one of my favorite activities, and I would love to make a career out of it.