VYO alumnus Jacob Morton-Black joined the VYO Iceland Tour this summer and wrote about it for the VYOA Alumni Newsletter.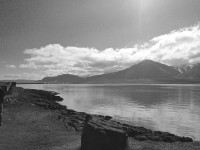 (Photo: Jacob Morton-Black)
This summer I was lucky enough to be able to go on the VYOA Tour of Iceland. After spending 6 years in the VYOA, this was my first time traveling abroad with the organization. Traveling to Iceland and performing with my peers was a life-changing experience, and I will be forever grateful to the organization for letting me come with them as an alumni.
As soon as the plane emerged from the cloud cover, we could see that Iceland was nothing like we expected. In my mind, the island of Iceland can be separated into four parts, North, South, East, and West. The West contains the airport and Reykjavik; the North, small fishing villages at the foot of massive fjords; the East, more dramatic fjords and cliffs; and in the South, geysers and volcanoes. Fortunately, on the trip we got to see and experience every part of the country. This was important because we got to see the elements of the island that shaped the people. Iceland is a very small country, consisting of approximately 200,000 people.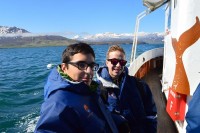 These people have a very special and palpable connection to the land, something that we do not experience much in the USA. They hold a deep connection and respect for the land – a connection they have fostered for thousands of years. There is a sense of great national pride in the parks and natural areas we visited. This connection was also apparent in the music we experienced. (photo: Gabe Harter)
Preparing for a tour is something that is both exciting and tiring. Luckily, we had a great selection of music to perform. In Iceland, we had the privilege of playing Chabrier's Marche Joyeuse, Jón Leifs' Icelandic Dances, Lecuona's Andalucia Suite, Tchaikovsky's Waltz from The Sleeping Beauty, the 1st and 4th movements of Borodin's Second Symphony, Saint-Saens Danse Bacchanale, and finally Copland's "Hoe-Down" from Rodeo as an encore. It was a joy to bring such varied repertoire on tour. The music was engaging for both the orchestra and its audiences. When we played Icelandic Da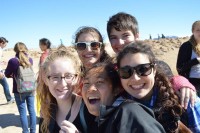 nces, I took a moment to look at the audience and see their reactions. I was pleased to see recognition on the faces of the audience, and some people even singing softly. I am so grateful that we got to play and experience their culture in this way. Jeff Domoto had introduced me to the music of Jón Leifs before the trip, and I took it upon myself to download some of his choral music (Elegies and Requiem). Both highlighted traditional Icelandic texts in an a capella setting. Listening to these pieces in the USA was just like listening to any other piece of comparable music, but listening to it while in Iceland was magical. (Photo: Gabe Harter)
The Icelandic culture is one that I don't think I will ever understand, but we got a small glimpse of it on the trip. Like I said before, they value their country's natural beauty and rich heritage, but they are also a very charming and lovely people. We were greeted everywhere we went by smiles and waves. One notable thing about Iceland is that English is spoken everywhere. Our tour guide, Thora, told us that in Icelandic schools, they teach Icelandic, English, then Dutch. In some places, the Icelander's English was better than ours! At the end of the trip, after all of the concerts and sights, I believe the whole group was changed by our individual and shared experiences. One thing that will stick with me is how well the VYOA has prepared me for life ahead. Musically, they have prepared me to achieve my musical ambitions, whether it be in Vermont, Iceland, or in college. Personally, the VYOA has helped me grow into someone who respects and values their peers and who finds the best in people. For this I will be forever grateful. When the VYOA travels to other countries, they not only share our love of music, but they help the students grow as musicians and people. These memories of Iceland will stay with me forever.