The VYOA Online Auction is in it's second week, and going strong!  Our goal is to raise $10,000 in financial aid funding for our students by 9:00 pm on Sunday, May 8th when the auction ends.  As of today (5/4), we have raised almost 40% of our goal.  We hope you will join in the fun and help us out by bidding on items, making a donation, or by spreading the word to your friends, family, neighbors, and coworkers!
There are 115 exciting items available in the auction, such as….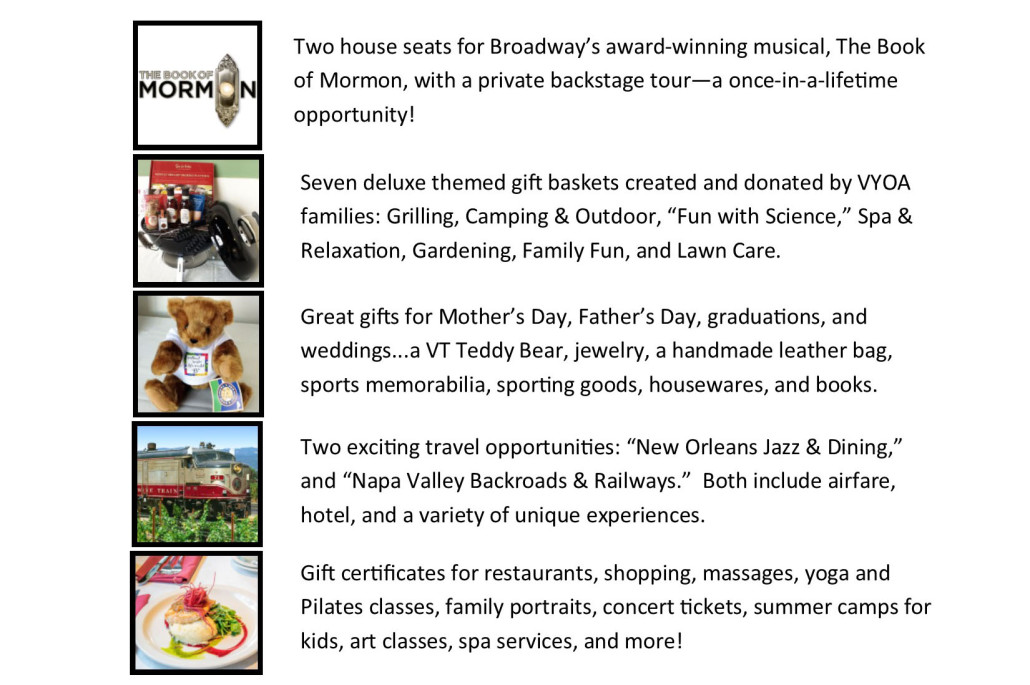 Frequently Asked Questions about the Online Auction:
Q: How can I help the VYOA reach their auction goal besides participating in the auction?
A: The biggest thing you can do to help is to tell your friends, family, and coworkers!  Forward this email, share on Facebook and Twitter, or pick up the phone and tell them.  The more people we have participating, the more likely we are to reach our goal.  You can also make a donation via the "Donate Now" button on our auction site to boost us toward our goal.  Thank you!
Q: Are proxy bids allowed?
A: Yes.  A proxy bid is when you place a bid for the maximum amount you are willing to spend, then let the system bid for you up to that amount.
Q: Can items be shipped to me?
A: Most items are available for shipping for an additional charge.  Some larger items and baskets cannot be shipped, and that will be stated in the item description.
Q: What payment methods are accepted?
A: The VYOA receives the largest percentage of funds if you choose to pay by check, but your your convenience, we can also accept all major credit cards via Paypal.  You do NOT need a Paypal account in order to pay by credit card. 
Got another question?  Contact Martha Pullen by email at martha@vyo.org or phone at (802) 655-5030 ext. 101.
The VYOA would like to extend its heartfelt thanks to all of the businesses and individuals who donated items for this fundraiser.  Please patronize these businesses and tell them we sent you!