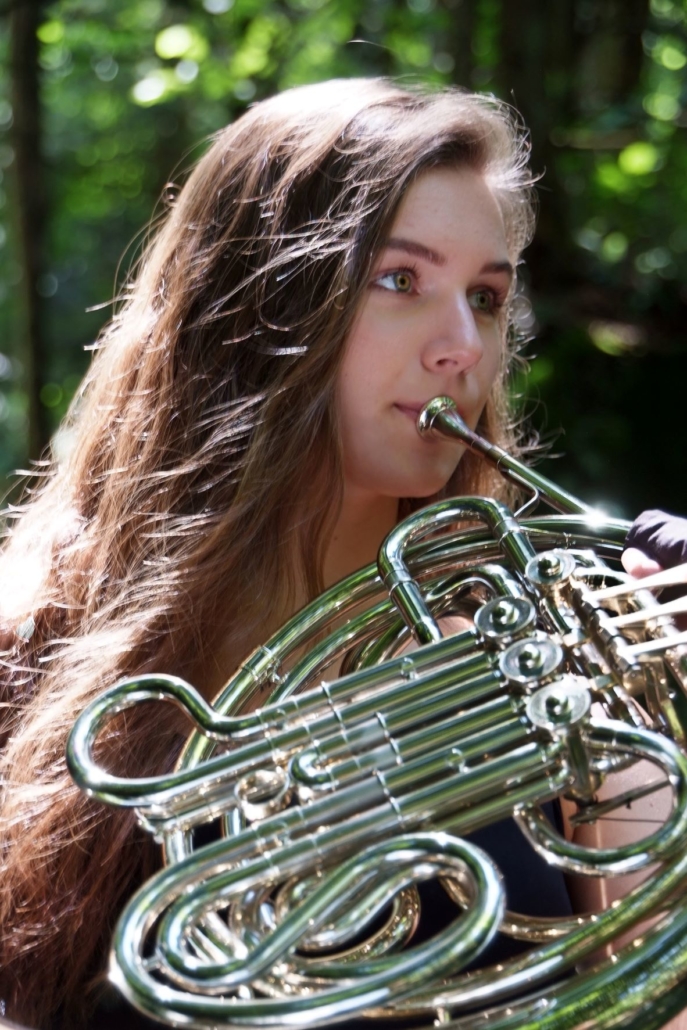 Emily King, horn
Missisquoi Valley Union
VT Youth Orchestra – 2 years
In the two years that Emily has been in VYO, her musical contribution has been tremendous! You can hear her playing the beautiful solo horn lines in concerts from both this year and last. We have admired Emily's consistent preparation and flexibility to play whatever is put in front of her.
Why do you like your instrument & how did you choose it?
As soon as I began immersing myself in the world of music, the French horn caught my attention with its unique sound and beauty. It stood out to me as an embodiment of grace and majesty, and I simply could not deny that I wholeheartedly wanted to learn this instrument. In order to ease my way into the challenges that come with horn playing, I began learning trumpet as my first brass instrument in elementary school. As I entered middle school, I was finally able to get my hands on a French horn. Ever since then, I've only grown more passionate about this instrument, and the horn never lost its magic in my eyes.
What has been your biggest musical challenge & how did you overcome it?
Auditioning has always been a particularly scary and anxiety-inducing part of being a musician. Even after auditioning for festivals for several years, preparing to perform scales, excerpts, and solos for my VYO audition was nerve-wracking. Being part of the orchestra was a dream of mine, so when the opportunity came to finally audition, I felt the weight of my goals resting heavily on my shoulders. However, as I stood in the hallway at Elley-Long anxiously awaiting my audition time, I had an epiphany. I realized that I was there to share my love of music. I was there to show the work I had put into my instrument over the last 6 years. I was there to play my horn, which had always brought me so much joy. After that, I walked confidently into the audition room and did what I enjoyed most: play the horn.
How has the pandemic effected your practice & performance of music or participation in your other activities?
For me, the VYO has truly been a light that shone through all the darkness brought on by the pandemic. For two long years, young musicians like myself had been denied festivals, band classes, lessons, and the other musical endeavors that we looked forward to. This bleak time without music was depressing and discouraging. It seemed like any glimmer of hope to perform again was diminished. That was until I became involved in the VYO. When in-person rehearsals finally began, I was reminded of the joy that music brought me. Even though I still could not play in school or festivals, the VYO employed lots of precautions that allowed us to safely play music together. While it wasn't a normal ensemble experience, it was like a breath of fresh air to be with other musicians again and finally create beautiful music.