Please Note: The VYOA has a COVID-19 vaccine requirement for all musicians.
All students 12 years of age and older must be fully vaccinated by January 1, 2022 and students ages 5-11 must be fully vaccinated by February 1, 2022. Unvaccinated students will need to submit a weekly negative PCR test taken within 96 hours of the Sunday rehearsal to participate. Due to the high number of COVID-19 infections from the Omicron variant, the VYOA is now accepting negative home rapid antigen tests taken the morning of rehearsal.
Learn how to play in an orchestra with the VYOA's Presto strings program! Presto offers beginning string players an introduction to ensemble playing in a fun and encouraging environment. Two, 6-week sessions are offered, each culminating in a concert for family and friends.
General Information
Conductor: Kathleen Kono
Ensemble Manager: Myriam Bouti, myriam@vyo.org
Rehearsals: Sundays at Elley-Long Music Center at St. Michael's College, 2:00-3:00 pm
Students interested in Presto should: have at least one year of experience in weekly private lessons or weekly school orchestra class, be able to read notes fluidly on all the strings in 1st position, and be able to interpret the written rhythms of eighth notes, quarter notes, half notes, whole notes and their equivalent rests.
Tuition: $100 per semester (financial aid is available)
2021-22 Schedule
Spring 2022: 
February 20
March 6, 13, 20, 27
Concert on Saturday, April 2 at 2:30pm at Elley-Long Music Center (students may need to arrive as early as 1:00pm for a dress rehearsal prior to the concert)
Attendance: One absence is allowed during each Presto session
Registration
Register for the Spring 2022 season
Contact Myriam Bouti (myriam@vyo.org) for any questions or to request a Financial Aid application.
A word from the Presto conductor:
"Hello Presto players! My name is Kathleen Kono and I am excited to return for another year of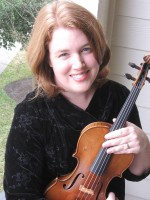 Presto! Together we will learn how to play as an orchestra with new friends that play violins, violas, cellos and basses. At the end of the six weeks, we will perform an amazing concert for all your family and friends.  Please join us, and get ready to have some fun playing music together!  I can't wait to meet you!"