Thursday, December 31st, 2015
3:00 pm, No charge
Followed by pie social!
Elley-Long Music Center at Saint Michael's College
Join us for a very special free concert at the Elley-Long Music Center featuring VYO senior soloist Elliot Lowe performing Pakhmutova's Trumpet Concerto. Other works include Gershwin's all-time favorite An American in Paris suite and Strauss' beloved Blue Danube Waltz. The VYO Chorus joins the VYO for other favorites.
This event will be immediately followed by a pie social!
Finally feel ready? Only just found out about us? It's not too late!
Mid-year auditions for our orchestras and choruses are being held in December!
Please contact auditions@vyo.org to schedule an audition. Financial aid is available.
Saturday, October 24th, 11:00 am – 1:00 pm
Do you love to sing? Do you belong in the spotlight? 
Become the master of your voice! In the Vermont Youth Concert Chorale, you will develop your tone, expand your range, strengthen your support and increase your projection. In other words, you will be able to sing higher, lower, stronger, longer and better for all kinds of music! You will also learn to harmonize, read music and sing in different languages, make new friends from schools throughout the Champlain Valley and beyond, and perform in a wide variety of settings, including at the Flynn Center with the Vermont Youth Orchestra!
Come meet master voice teacher and VYCC director Sarah Cullins at University Mall on

Saturday, October 24

between

11am and 1pm

to find out more and even take a quick audition to join this season!
The Jake Kahn 5k Fun Run/Walk is on Sunday Oct 4th at 10:00am to benefit the Vermont Youth Orchestra Association's School Tour program. This is the 5th annual event to raise money for this valuable outreach program which brings VYOA orchestras and choruses to schools around the state. These annual school tours are a great opportunity for VYOA musicians to share their artistry with school children in our region and to get them excited about music, learning an instrument, and performing music with their peers. Each year the VYOA's three orchestras and two choruses perform 8 school concerts for nearly 2,500 school children. This fundraiser helps offset the travel costs of bringing our students to schools in our region.
This annual 5k Fun Run/Walk was organized by VYO trumpeter Jake Kahn in 2011 who is now a senior at CVU. It starts at the Elley-Long Music Center, home of the Vermont Youth Orchestra Association, located at 223 Ethan Allen Avenue in Fort Ethan Allen in Colchester.
Area businesses in support of the VYOA and Jake Kahn have donated some fantastic prizes. Notable large prizes this year include a "Flyboard Vermont" session and a Bash Badge at Smugglers' Notch.
Fleet Feet Sports in Essex Junction has provided $10 coupons to all participants to partially or fully offset the cost of registration.
Registration fees go directly to the VYOA to support this program and are tax deductible.
When:
Sunday, October 4, 2015
Registration at 9:00am
Race Start at 10:00am
Where:
Elley-Long Music Center
223 Ethan Allen Avenue
Colchester, VT 05446
Cost:
Adults: $15
Youth -Age 17: $10
Maximum per family: $40
Please visit vyoafunrun.webs.com to register, to make a donation, or to view prizes and the route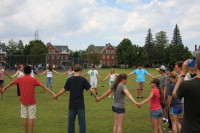 "After a few quiet weeks following the VYO's return from our Icelandic tour, the VYOA's 2015-16 season kicked off at the start of August at hyperspeed, filling Elley-Long with fantastic music making, teaching, and community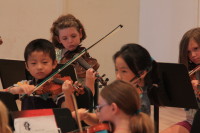 building. The first week of August featured the launch of our new Discovery Strings day camp for students in Grades 1-5 who have 6 months of experience on their instrument. Under the direction of Kathleen Kono, the fifteen students had a fun and enriching week working with super teachers and VYOA alumni Martha Ellerman and Amanda Milne. We learned that a participant level of fewer than 20 students makes for an ideal learning environment and will make this a feature of the camp going forward.
The following week saw the return of our VYO and VYP students (alongside many new members!), starting with our new two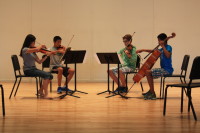 -day chamber music intensive. Between working with coach Emily Taubl and me, the students received 10 hours of coaching and gave excellent performances of their pieces at the end of the second day. In the future, we'll be looking to offer these experiences throughout the year. Reveille started on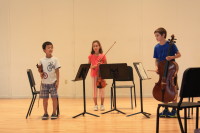 Wednesday, featuring intensive full rehearsals, sectionals, and activities that help the orchestra members get to know each other and form a strong sense of ensemble identity. The VYO and VYP fall concert weekend is only 5 weeks away, but both ensembles are already well on their way to presenting polished and spirited performances!
This past week has been dedicated to our two -day VYS and VYO Chorus mini-camps, setting up both groups to begin regular rehearsals next month at full speed.
In our efforts to improve our visibility in the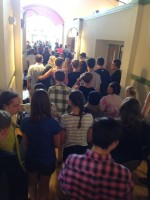 community and increase performance opportunities for our students, we have launched the VYO String Squad, an ad hoc orchestra performing fun and only moderately challenging music; with at least 20 students participating at launch, we expect to have enough players available to field a strong group for each ofthe performing opportunities we're looking at, including Church Street, the VYOA Autumn Promenade, University Mall, Farmer's Night, and Wake Robin. Caleb Pillsbury, our new VYOC conductor, is developing similar additional performance events for that group.
Looking forward to seeing you at our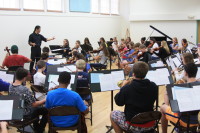 concerts this year!
Best regards,
Jeff Domoto, Music Director
Vermont Youth Orchestra Association"
VYO alumnus Jacob Morton-Black joined the VYO Iceland Tour this summer and wrote about it for the VYOA Alumni Newsletter.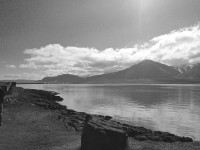 (Photo: Jacob Morton-Black)
This summer I was lucky enough to be able to go on the VYOA Tour of Iceland. After spending 6 years in the VYOA, this was my first time traveling abroad with the organization. Traveling to Iceland and performing with my peers was a life-changing experience, and I will be forever grateful to the organization for letting me come with them as an alumni.
As soon as the plane Read more →
We are delighted to share that we have received a $10,000 NEA grant for the 2015-16 season for our work with the after-school program at JFK Elementary in Winooski.  For the past three years the VYOA has been hosting beginning and intermediate strings and percussion classes as part of the 27-week after-school program.  Also, as part of the part of our annual partnership, the entire school attends a school-day concert here at the Elley-Long Music Center in March, receives tickets to VYO Flynn concerts at no-charge, and has one of the VYOA ensembles perform a school tour concert at their school.
The VYOA strives to eliminate barriers to arts education and instrument instruction with the Beginning Music After-School Program. Knowing that the economic circumstances of children are not indicators of their musical talent, interest, or appreciation, the VYOA is strengthening relationships with economically challenged public schools to create sustainable partnerships and increase opportunities for all Vermont students to hear live music and play music with their peers. To that end, during the 2014-15 school year the VYOA hosted a woodwind chamber program at Bakersfield Elementary and an 8-week beginning string class in Newport Town.
New this year, the VYOA would like to announce Discovery Strings!  Discovery Strings is a half-day camp for young string players with at least one year of playing experience.  Students must be entering grades 1-5 in the fall of 2015.
Led by Camp Director Kathleen Kono, Discovery Strings will take place August 3-7 from 8:30 am to noon at the Elley-Long Music Center, and the camp will close with a concert for family and friends on Friday at 11:30 am.  Tuition is $175 for the week and financial aid will be available (please email info@vyo.org for a Financial Aid application).
Sound like fun?  Email info@vyo.org for a link to our online registration form!
Congratulations to the members and conductors of each of the VYOA ensembles that performed on Sunday at OrchestraChorusPalooza! I'm very proud of all the focused and intensive work we've done together so far this season. All of us at ELMC wish you all a wonderful holiday season — have fun, enjoy your families, and "recharge your batteries" to kick off a great New Year. Looking forward to having you back making music in January!
– Jeff Domoto